Bishop
Live your life.  Don't leverage it.
In the world of "emergency preparedness" which any regular reader of mine will know that I don't subscribe to, it is common to hear proposals to "get off the grid."  Typically what that entails is someone living via their own food, water, and electric production. In some instances it may even encourage a hermit type of lifestyle.  Well, in understanding reality, I believe that the hermit aspect of being off the grid is unrealistic.  People, by nature, are a social lot thus making self-imposed exile unrealistic.  However, we still have the right and even a duty to be very particular of the company we keep, right? So today, I'm going to point out some villainous low lifes, that I recommend you cease associating with as soon as possible.  Unfortunately, I realize this
will not be an easy task. You have already allowed them not only into your living room, but they eat frequently at your kitchen table, they sleep with you every night, and indeed, they attempt to blackmail you into making the kinds of decisions that place you and your family into slavery—yes, real life, legal slavery. Even worse, these untoward influences which you opt to keep in your life have manipulated the majority of your friends and family members in exactly the same manner.
Before I reveal who these nefarious persons are, allow me to ask you a question. Isn't it accurate that a blackmailer has no influence if you do not have an attachment to whatever it is that they hold over your head?  For instance, suppose a blackmailer threatens to tell and demonstrate to your entire community that you are a horrible wife and mother if you do not comply with their demands.  Logistically speaking, that blackmail threat only has power over your actions if A) you believe that your image can convincingly be portrayed in such a manner and B) if you believe that your life will be affected negatively, even irrevocably, if this information were to get out.  However, if neither A nor B play a part in your decision, then you automatically thwart any power that the blackmailer has over you.  You may even go so far as to take out a front page ad in your local newspaper that says "I'm a bad wife and mother—get over it. At least I can improve."—or something like that. Obviously, such a response to a threat of blackmail would definitely take the wind out of the sails of any potential extortionist.  In fact, late night host, David Letterman, did just that when one of his producers threatened to "go public" with a litany of affairs he knew David Letterman had engaged in over a span of years.  Instead of giving in to the proposed extortion game, David Letterman elected to break the news of his infidelity himself—thus destroying any untoward influence the would-be extortionist had over him.
Ok. So what's all of this talk today of blackmailers, villains, and low lifes, and what in the world does it have to do with the subject of preparedness?
If I had my druthers, I would wish for every person to see the credit reporting culture for what it truly is.  I believe that if you were to do so, then you could easily dismiss its unnecessary influence in your life, and that you would be living a much more independent and true version of yourself.  Grant it, this is much easier said than done. Some persons say that the drug addiction to heroine is nearly impossible to overcome. Other doctors say that sugar is just as addictive of a habit. But I say that the use of credit and the consequential influences of using that credit, rank right up there in terms of difficulty to overcome.  So my goal today is to give you some sound "whys" so that you can be better armed in your release from this enslavement.
Credit reporting has influenced our lives in nearly every aspect. In spite of the fact that every American has the right to work, someone, somewhere elected to give the credit reporting agencies the right to weigh in on whether or not we would be a good employee.  In spite of the fact that many of us elect not to participate in the rat-infested waters of the credit card game, someone, somewhere decided that if we do not play in this game, that we are less than perfect and thus receive a lower credit score.  Even more manipulative, if we simply choose to have a credit card, but not use it because we are wise and self-sufficient, we are considered still not fit to receive an approval rating of the credit reporting monarchy.  It doesn't matter that you were unable to afford an attorney when a frivolous law suit was thrown at you, and as a result you got behind on your bills. It doesn't matter that your insurance company elected to play games with your medical claims when you had an emergency triple by-pass.  It doesn't matter that some $7 an hour employee was distracted with a benign cell phone conversation and made a mistake when they reported your credit payment history.  The credit reporting oligarchy does what they want, why they want, when they want, and they have somehow convinced every employer, insurance company, and extender of private person credit that they are the authority on who you are or are not.  Hmmm…. Doesn't this make you want to ask "who made YOU the authority on my character, heart, and soul?
Even worse, the credit reporting network has somehow been given permission to "rate" you with a number, without any real boundaries, accountability, or any amount of required accuracy.  It's interesting to note that out of every single erroneous bit of information that the credit reporting agencies have published about you, it was NEVER in your favor.  Every mistake made by Transunion, Equifax, and Experian (the big three reporting agencies) was never made in such a way that your credit position was improved.  Mistakes like this do not happen unless you have a derogatory system in place to begin with.  In addition, out of 1,000 credit reports that were sampled, over 25% of them had errors—serious errors—that cost you your job, a larger portion of your paycheck, or your ability to obtain affordable insurance.  These self-sanctioned reporting agencies are owned by the very persons who benefit from you having a less-than-stellar credit score—the banks.  Think about it. When your score is lower, the banks "get to" charge you a higher interest rate.
Credit reporting agencies also get to pry into our lives without our permission. Seriously, have you ever given anyone the authority or permission to pry into your work history, medical history, or debt history before?  No. Is this supposed to be public information?  Uh, no.  And yet I can tell you right now that the information on your credit report is sold with reckless abandon to any business who desires it. I know. Because I used to be one of those businesses who bought your credit information!  I could look through anybody's credit report and figure out the majority of their life story! The credit reporting agencies have all of that information on you, and then have the gall to charge other persons—including yourself—to view such information!!   They are profiting on the manipulation and disbursement of your private information. Even worse, they have convinced everyone that this is "normal" and "just how it's done."
Here's an example.  Recently a medical collections company shared with me that nearly all of their collection accounts will settle an account without even checking to verify that the medical collection is accurate, rather than have it negatively affect their credit report.  I don't know what you call it in your world, but in my world folks, that's called a shake down.  A recent news article in the New York Times reported that several banks delay reporting positive payment behavior in order to protect themselves from losing their good clients to other banks, and in order to justify their present interest rate.
In spite of the great amount of power and influence that the credit reporting agencies have self-proclaimed, there are very little consequences for their inaccuracies, inherent vulnerabilities for identity theft, and downright fraud.  With the errant  press of a button, a person's life who is reliant upon credit can come to a screeching halt.  No checking account.  No mortgage.  No automobile. Etc.
So, you know what I say?  Stop playing the game with them. Stop giving them permission to use you as a profit center.  Stop acknowledging them as any kind of authority in your life.
Did you know that you are not required to give a bank your social security number?  Just because they are required by law to ask you for a social security number, does not mean that they are required to RECEIVE your social security number in order to open an account. (See U.S. Code Title 26). This is exactly why I do not have any credit cards, car loans, etc.  I will never even apply for a credit card or line of credit.  If my husband and I want a car, we will pay cash for it. When my husband's business needs more product, he pays for it up front, never taking it on "15 day terms." If you don't play their game, then they have no control over you.  When I buy a new house, it will be with cash or I will lease/rent to own.  I will never provide my social security in order to obtain medical care. You are NOT required to have a social security number. (See Social Security Act).  And if you're paying cash for your medical care, then what business do they have of demanding this number from you?
"Mr. Smith, if you don't have this many kinds of credit cards open for this period of time, you will have a poor credit score."
Mr. Smith should say "So what? I don't use credit and I never will."  That, my friends, is how you become financially independent. And only if you are financially independent do you become independently wealthy.  Any other kind of wealth is a mythical state of belief. How can you truly be independent if you are indebted to any other person?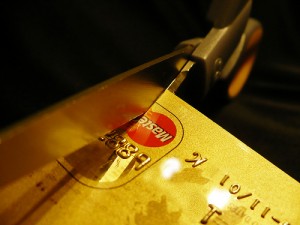 You may not be aware of this, but this credit crap shoot does not apply to the commercial world.  Yup. In the commercial world of lending a credit score is a moot point. All the underwriters focus on is the value of the collateral, the viability of the business plan, and the experience of the business owners. No credit score required.  Hmmm…doesn't that make you wonder just a little bit?  It's ironic that the whole credit reporting scheme got it's start as a way to grade business risks. And yet now, it's rarely used for that purpose. Instead it's used to get everyday persons like you and I to cow tow to some made up, unexplainable (literally—it's unexplainable even by those who run the business), secret, scheming system.  That may sound dramatic to some of you. But just because it has some illicit taste, does not detract from the fact that I'm 100% correct in this matter.
I beg everyone who's reading this to stop playing the credit game.  Stop using credit cards.  Stop purchasing what you cannot really afford.  Every time you do, you are simply empowering the credit scheme to have effect on your life, and on everyone else around you.  Only if you shake off the shackles of this sham can you enjoy true independence on every aspect of your life.  Don't meet the demands of your blackmailer, annihilate them first. *yup, I'm feeling like Clint Eastwood right about now—grin*  And I'm here to tell you that yes, it is completely possible to live your life without the need of any credit.
Live your life. Don't leverage it.
© 2019 Of COURSE this post is Copyright Protected by Preparedness Pro. All Rights Reserved. NO portion of this article may be reposted, printed, copied, disbursed, etc. without first receiving written permission by the author. This content may be printed for personal use only. (Then again, laws are only as good as the people who keep them.) Preparedness Pro will pursue all violations of these rights just as vigorously as she does any of her other freedoms, liberties, and protections.