This week's Preparedness Pro In Your Kitchen recipe recreates a comforting soup that I've used and loved for a long time, adapts it to convenient shelf-stable foods, and also cuts down the fat dramatically—as I used to make it with whipping cream and half-and-half.  It's a simple, comfortable and easy dish to serve for your family or even for special company.  Enjoy it with some crusty bread or some warm corn tortillas.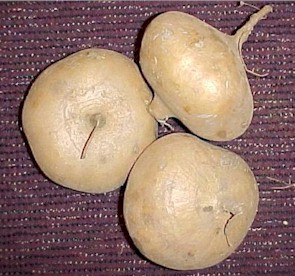 If you've got the fresh herbs or vegetables on hand, this is also great with about a cup of small, diced jicama and topped with some fresh cilantro.
I grown my own cilantro year round and the jicama that I purchase stays good in my cellar for months and months. I LOVE to eat it freshly cut or deep fried. If you haven't tried jicama yet, I encourage you to do so. It has a crisp, sweet, moist taste and it great as the base of a cole slaw, or a taco topping as well.
You can easily dump all of these ingredients into a stock pot and cook it in your solar oven with no stirring necessary, (about 1 hour at 180 degrees or more) or you can cook all of the items together--except for the Shirley J Universal Sauce-- for about 7 minutes in your pressure cooker on high heat; do a quick release of the pressure, and then add the Universal Sauce mixture once you've combined all of the other flavors.  The chowder will thicken quickly with the pressure cooker method without you needing to continue cooking it.
Mexican Chicken Corn Chowder
1 pound of cooked, shredded chicken (I used my canned chicken that I've done myself)
5 ½ cups plus 1 cup of water
1 teaspoon of Shirley J chicken bouillon (if using another brand, you'll need to add more in order to get the same depth of flavor, about 1 T., and draw back on the amount of salt you use.)
2 T. freeze-dried or dehydrated chopped/minced onions
1 heaping T. of minced garlic
1 cup of freeze-dried sweet corn
1 ½ cup of freeze-dried diced potatoes
1 T. of cumin (or less, according to your palate)
1 cup of Shirley J Universal Sauce
1 small cans of diced, green chilis
Salt and pepper to taste
In a large pan, bring the shredded chicken to a simmer in the 5 1/2 cups of water, onion, garlic, and the chicken bouillon for approximately 10 minutes. Add the corn, potatoes, cumin, and the entire can of green chilies and allow to simmer another 5 to 10 minutes. While that mixture is cooking, combine 1 cup of the Shirley J Universal Sauce with 1 cup of water in a separate bowl. Whisk with a fork until smooth, then add it to your simmering mixture.  Continue simmering and stirring occasionally for about 10 minutes until thickened.  Add desired amount of salt and pepper and serve.
To see our upcoming event schedule, click here
Check out our in-home-course programs
Subscribe to Preparedness Pro today and never miss a thing!
For any questions or comments on this article, please leave a comment on the blog site so that everyone can benefit!
Copyright Protected 2010, Preparedness Pro and Kellene. All Rights Reserved. No portion of any content on this site may be duplicated, transferred, copied, or published without written permission from the author. However, you are welcome to provide a link to the content on your site or in your written works.
© 2019 Of COURSE this post is Copyright Protected by Preparedness Pro. All Rights Reserved. NO portion of this article may be reposted, printed, copied, disbursed, etc. without first receiving written permission by the author. This content may be printed for personal use only. (Then again, laws are only as good as the people who keep them.) Preparedness Pro will pursue all violations of these rights just as vigorously as she does any of her other freedoms, liberties, and protections.