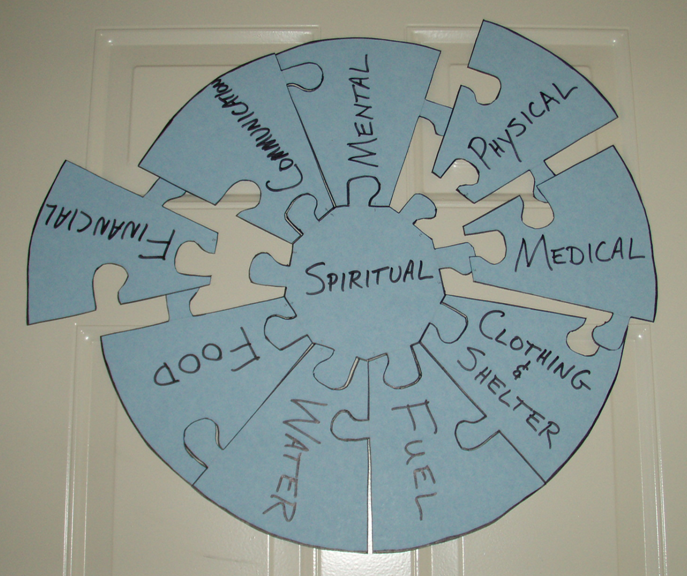 When I speak to people about their emergency preparedness state of readiness, inevitably the conversation begins with food storage.  In fact, for most individuals, food storage is what they think of when they hear "emergency preparedness."  This is actually a bit of a problem, because food storage is only one aspect out of my Ten Areas of Readiness I teach
about on a regular basis.  And yet not only do many feel that it's the primary area of focus, but they are completely overwhelmed with the requirements to be ready in this area.  To allow only ten percent of the whole picture of readiness overwhelm a person just brings on a lot of stress.  Personally, I think there is way too much that's worthy of a bit of stress on our part without having to stress about one of the EASIEST components of preparedness.
Why might you be OVERwhelmed by preparedness?
Before you think that I may be hitting the hard stuff and thus a little off my rocker, let me assure you that I've heard (and personally experienced) every possible reason for people avoiding the task of food storage.
Do any of these responses sound familiar?  I can tell you that with little exception I've personally traveled through each of these excuses at some point in my life.  But, standing where I am now, I'm happy to tell you that they can ALL be overcome.  Even the one with the spouse.
The reason it's important to me to share all of this with you is primarily so that you won't be overwhelmed with food storage.  There are some other more critical areas of preparedness that you do need to focus on, and being distracted with an EASY component of preparedness is obviously unproductive.  So, my goal is to make the food storage aspect of emergency preparedness a "no brainer" for you to the point that you're actually UNDERwhelmed with food storage.  This way you can expend your energies on the more important aspects of preparedness.
In this eight-part series, I will address each one of these components and put them in a factual perspective that you may just have been missing in the midst of your crazy, overly scheduled life.  The good news is you'll have one less thing on your emergency preparedness list to worry about.
Here's a sneak preview of the series on preparedness.
I look forward to walking this journey with you over the next eight days.
UNDERwhelmed in Food Storage Series
© 2019 Of COURSE this post is Copyright Protected by Preparedness Pro. All Rights Reserved. NO portion of this article may be reposted, printed, copied, disbursed, etc. without first receiving written permission by the author. This content may be printed for personal use only. (Then again, laws are only as good as the people who keep them.) Preparedness Pro will pursue all violations of these rights just as vigorously as she does any of her other freedoms, liberties, and protections.