Hey Folks. Several months ago I was waiting for a solar oven business to finally post it's site. They didn't. Why? Because they were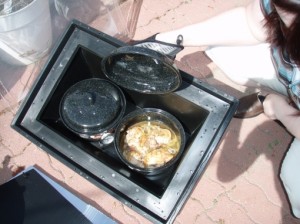 bought out by another company--Five Star Preparedness. So when I found that out, I made friends with Five Star. (It wasn't really hard because they use the same executive virtual office that we do--mine! Hee hee) Anyway, I wanted to let you know that they ARE able to take solar oven orders now. All you have to do to find them is go online at www.fivestarpreparedness.com. They only offer one solar oven though, because there's only ONE that is actually manufactured to handle "worst case scenario use".  And the best part is,
that they are offering a KILLER price on these. After they shared the price with me I thought, "Hmmm...that's pretty much in line." But then they shared with me that EACH solar oven purchase includes two 3-qt enamel pans, thermometer, and a WAPI--oh, and the prices included shipping. In that case, I have to say that they are the best priced that I've seen. In fact when I went to the manufacturers sites, they didn't even offer them for these prices.
I'll give you the run down on the oven for your education. The heartiest one is the Global Sun Oven. It's got a 15 year guarantee and is intended to be used everyday for 15 years. (You're not likely to use it that much. So that should tell you about it's ruggedness.) It weighs 21 pounds, but it has a "suitcase" handle on it and is easily portable. It gets up to 450 degrees and you can double stack pans in it. It also has a leveler in it, so that regardless of you having to tilt its base in the winter time, your food stays level.  I have personally done a 17 pound turkey in mine (about a pound shy of what they claim you can do in them...but I couldn't find a bigger bird.) Anyway, the limited time offer price through Five Star Preparedness is $255. That includes shipping, thermometer, two 3-qt. dark enamel pans, a water pasteurization indicator, and the reflector, of course.
Photo c/o Solar Cooker
There are some less ovens out there such as the SOS Solar Oven (also known as the Sport). This one weighs only 10 pounds. It's intended for regular use for 5 years. It has a wider surface than the Global, but it's not as deep. I like mine for that reason, but it's not as rugged as the other. My biggest issue with that oven though is the flimsy materials it uses. In fact when I called the manufacturer, they actually said "the lid is not intended to receive direct Utah sun light so don't use the reflectors." Whaah?? A solar oven that's not intended to use direct sunlight in any state doesn't sound like a solar oven I want to risk my family's well-being on.
By the way, I tried to get a discount for Prep Pro folks, but they claim (reasonably enough) that every day, every item is priced rock bottom so that they can get as many of these into people's homes as possible. Makes sense to me.  Let me know how you guys like them. I LOVE mine. (And am DEFINITELY considering getting another Global in the event I have to cook for a small army of folks in a disaster.)
To see our upcoming event schedule, click here
Check out our inhome-course programs
Subscribe to Preparedness Pro today and never miss a thing!
For any questions or comments on this article, please leave a comment on the blog site so that everyone can benefit!
Copyright Protected 2009, Preparedness Pro and Kellene. All Rights Reserved. No portion of any content on this site may be duplicated, transferred, copied, or published without written permission from the author. However, you are welcome to provide a link to the content on your site or in your written works.
© 2019 Of COURSE this post is Copyright Protected by Preparedness Pro. All Rights Reserved. NO portion of this article may be reposted, printed, copied, disbursed, etc. without first receiving written permission by the author. This content may be printed for personal use only. (Then again, laws are only as good as the people who keep them.) Preparedness Pro will pursue all violations of these rights just as vigorously as she does any of her other freedoms, liberties, and protections.