The much anticipated list of winners is finally calculated and the results are IN!!!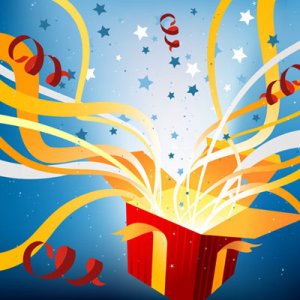 Before we get to the juicy details of who gets to add to their preparedness pantry for the great price of FREE by having their name drawn, I wish to thank our sponsors, Augason Farms, Five Star Preparedness, Shirley J, ChemiSan and Home Storage Basics for being ever so willing to provide the products for our giveaway.  I would encourage you to peruse their websites and see if there are other products they provide that would fit in your family's version of a preparedness pantry. I know I sure have enjoyed their many fine products over the years, and, in my opinion, they just keep getting better.
First off, I wanted to thank everyone for participating.  We had SO many great comments that were shared, and you were all so willing to share our message with your friends, too.  We had some great webinars, and I believe all of the participants came away from the online course with a new understanding of the particular area of preparedness they chose to attend.  Finally, I wanted to thank those who took the time to email me personally, sharing their opinion about Preparedness Pro.  We read quite a few marvelous comments from people who have taken the preparedness challenge seriously, and are making great strides towards their preparedness goals—Yahoo!  This makes me happy knowing that we are helping so many people to become prepared for today and tomorrow.  Keep up the great work everyone!
Now, I know you are jumping up and down and want me to get to the chase, but need you to hold your britches for just a couple more lines because I have some housekeeping issues to attend to first (grin).  If your name is listed below, you will need to contact my assistant, Vicky, to inform her you are the rightful owner of your winnings.   Before your prize can be sent out;however, she will also need your contact information (full name, mailing address, phone number, and email address) as soon as possible so we can then get your prizes mailed out.  Some winners we did not have their full name (such as those who commented on the blog) or email for (such as those on Facebook), so it's imperative that we receive all of your contact information in order for your prizes to be shipped out properly. You can contact her directly by emailing her at vicky at preparednesspro dot com.
Now...are you

ready

?  I sure am!!!!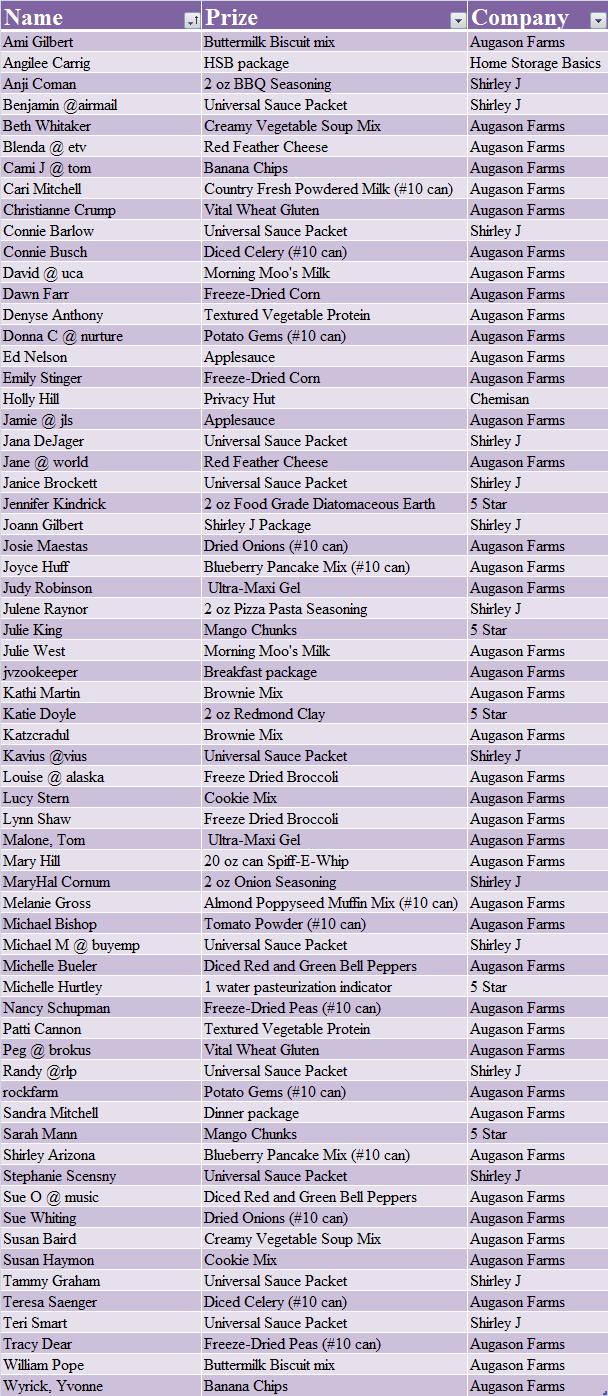 Keep prepping everyone.  Keep sharing.  Keep making the best choices based on what you learn out there (and here.)
To see our upcoming event schedule, click here
Check out our in-home-course programs
Subscribe to Preparedness Pro today and never miss a thing!
For any questions or comments on this article, please leave a comment on the blog site so that everyone can benefit!
Copyright Protected 2010, Preparedness Pro and Kellene. All Rights Reserved. No portion of any content on this site may be duplicated, transferred, copied, or published without written permission from the author. However, you are welcome to provide a link to the content on your site or in your written works.
© 2019 Of COURSE this post is Copyright Protected by Preparedness Pro. All Rights Reserved. NO portion of this article may be reposted, printed, copied, disbursed, etc. without first receiving written permission by the author. This content may be printed for personal use only. (Then again, laws are only as good as the people who keep them.) Preparedness Pro will pursue all violations of these rights just as vigorously as she does any of her other freedoms, liberties, and protections.