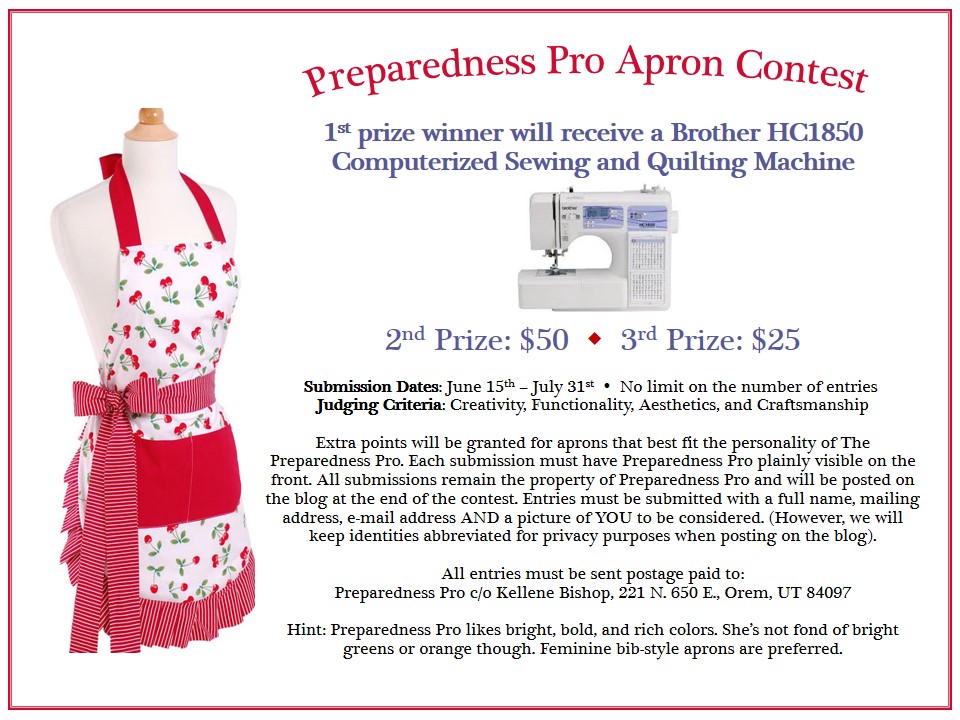 Get your sewing machines revving because it's time for another Preparedness Pro contest. Create and submit a winning bib apron style and you could win a Brother HC1850 Computerized Sewing and Quilting Machine!!
1st Place: Brother HC1850 Computerized Sewing and Quilting Machine
2nd Place: $50
3rd Place: $25
This isn't a lottery drawing here; you're not competing with millions of other contestants. You've probably never had as good of a chance at winning one of our three prizes as you do this contest, so sew if you know how and learn how to sew if you don't! *grin* Oh yeah, and make sure you have fun!!!
I've attempted to clarify the details of the contest as follows:
You must enter to win by submitting your HANDMADE apron to our address. (No COD or postage due packages will be accepted)
 All entries should be submitted to: Preparedness Pro C/O Kellene 221 N. 650 E. Orem, UT 84097
 Your entry MUST be handmade; commercially manufactured aprons will not be considered for any award.
 Each entry/apron must clearly display the name "Preparedness Pro" or "The Preparedness Pro" or "PreparednessPro.com" on the front. This display must be a permanent part of the apron. Contestants may use whatever means they choose to accomplish this--Fabric markers, cross-stitch, embroidery, bedazzle, etc.
It's best if the apron is done in a "One Size Fits All" format; however, if you're set on a particular size, keep in mind that The Preparedness Pro is a plus size.
You may enter more than once by submitting more than one apron.
 Any age, shape, or size of contestants may enter to win.
 International contestants are welcome and encouraged, however, due to expensive international shipping costs, if the 1st place winner resides outside of the Continental U.S. then a CASH prize in an amount equal to our purchase price of the 1st Place Prize will be awarded instead.
Aprons will be judged based on their Creativity, Functionality, Aesthetics, and Craftsmanship.
(Hint: I'm not a big fan of bright green or orange—but you do what YOU want to do. Special consideration will be awarded for those designs which best reflect the personality/opinions of The Preparedness Pro and/or Kellene.)
EACH entry must be accompanied by your full name, mailing address, e-mail address, and a picture of you. The picture of you is only so that we can put a face with the name and get to know our readers better. Neither your personal photo or your personal information will be published or shared in any way.
 Once submitted, all entries are the property of The Preparedness Pro and will not be returned to the contestant and may be displayed or featured on our blog and/or in other marketing materials.
 In order for your entry to be considered it must be post-marked no later than July 31st, 2013 and received no later than August 3rd, 2013.
 If for any reason there are fewer than 25 contestants, Preparedness Pro reserves the right to cancel the contest and will return all entries to the contestant.
 No prize substitutions will be considered with the exception as already outlined above with international contestant submissions.
Prizes will be delivered ONLY to the submitting contestant.
 All entries will be posted on our blog August 5th and we may encourage public comments on each of the entries. However, ultimately the winners will be selected based solely on the opinion of Kellene, The Preparedness Pro.
 Winners will be announced here on our blog on Friday, August 9th!
Get wacky, inspired, sassy, crazy, bedazzled, colorful, bold, or bright! Whatever suits your fancy; but whatever you do---HAVE FUN!!!
© 2019 Of COURSE this post is Copyright Protected by Preparedness Pro. All Rights Reserved. NO portion of this article may be reposted, printed, copied, disbursed, etc. without first receiving written permission by the author. This content may be printed for personal use only. (Then again, laws are only as good as the people who keep them.) Preparedness Pro will pursue all violations of these rights just as vigorously as she does any of her other freedoms, liberties, and protections.