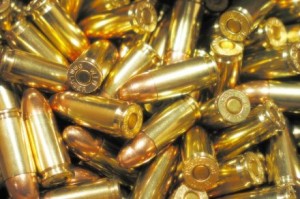 In light of California's newest law to go into effect as well as the uncertain future regarding our access to quality foods, I am in a definite buying mood. "Buying what?" you may ask—ammo and seeds and just about anything that goes along with that including quality gardening tools, ammo storage containers, more range time for practice, etc. etc. If you've been too busy to see the recent news, allow me to catch you up to speed. (Important update: California ammo law has been shut down! Yah! http://www.nraila.org/Legislation/Read.aspx?ID=6128)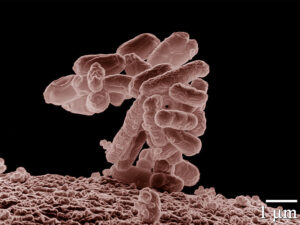 First the threat against our food is two-fold. On one front we have the "Food Safety Modernization Act" which gives the FDA more power ostensibly to crack down on large scale food growers in order to protect the American people from the various outbreaks of e. coli and other tainted scenarios. (Don't you just love it how they keep naming an act exactly the opposite of what it actually is i.e. "Food Safety" "Stimulus" "Health Care" Volunteer Act, etc.?) However, if one actually reads the bill, there are definitely some vulnerabilities that even the private family garden may be subjected to.
On the other front we have the Monsanto Corporation which is one of the most powerful and frankly the most aggressive corporations in the world. They are supposed to be an agriculture biotech company, however they see fit to be one of the largest customers of the Blackwater Company—the largest mercenary company in the world. (Their new name is now Xe Services).  Blackwater is also wooing Monsanto to become their "intel arm".  (Contrary to internet gossip, Blackwater has NOT been purchased by Monsanto.) Regardless, does anyone else wonder what an agriculture company needs with a mercenary army or in gathering "intel"?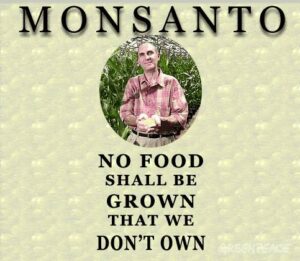 In addition to this questionable behavior, Monsanto has been a bully to farmers who don't want to play ball with Monsanto and their genetically modified food and seed creations. Monsanto has successfully shut down dozens and dozens of farmers in the U.S. with their legal wrangling over the past 5 years.  To be clear, Monsanto is responsible for the majority of the introductions of genetically modified foods into our diet.  They literally are attempting to manipulate—all in the name of safety, of course, the availability of seeds all the way down to the home gardens.  Monsanto's goal is to be the provider of every single seed purchased, and that means they desire to eliminate any non-hyrbid seeds in order to ensure a perpetual income for them. In case you didn't know, Monsanto has countless powerful allies in the U.S. Government. When you combine power with money, you tend to end up with what you want out of life, and Monsanto wants control over the food supply of the world. (Gee. Their mother's must be proud, eh?)
Taking all of this into consideration, I feel it's time for massive, deliberate action in ensuring that I have a sufficient supply of quality seeds, natural fertilizers, skill, and tools in order to make sure that I don't have to rely on Franken-foods.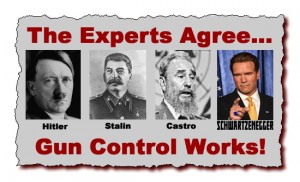 Next, on February 1, 2011, California will have a law go into effect that basically makes requires every California citizen to reveal themselves when they purchase ammunition; and it makes it illegal to purchase any ammunition that is produced outside of the state. (And we all know that California is one of the most committed states in the U.S. towards creating high-quality ammunition and plenty of it too, right? –Yes, sarcasm is intended there folks.) If you don't get a thumbprint and thorough background check when selling ammunition to another person in California, you've committed an illegal act. Additionally, a face-to-face requirement is imposed for any transfer of ammunition as well as a few other dandy little requirements.  You see, since the Supreme Court has shown their hand in how they would rule on any imposition of the right to bear arms, the powers that be in California have elected to target the supply of ammunition, thus making the ownership of firearms a moot point—unless one is a criminal, in which case any laws regarding the ownership of firearms or ammo or drugs, or whatever the heck they want is also a moot point.
If you haven't picked up on it quite yet, California has been the testing ground for a great number of issues that ultimately end up infiltrating the other states in the U.S.A. So when I see something like this taking place, I view it as a foreshadowing of what's to come elsewhere in the U.S. and try to take action to counter the impact of it.  Thus I'll be keeping my eye open for good deals on ammunition so that if such a regulation was inflicted upon my area of residence I'll be grandfathered in on what I may already own.
I predict that there will be a great deal of foreshadowing this year folks, as well as beyond the next 361 days. So let's keep our eyes open and prepare accordingly.
© 2019 Of COURSE this post is Copyright Protected by Preparedness Pro. All Rights Reserved. NO portion of this article may be reposted, printed, copied, disbursed, etc. without first receiving written permission by the author. This content may be printed for personal use only. (Then again, laws are only as good as the people who keep them.) Preparedness Pro will pursue all violations of these rights just as vigorously as she does any of her other freedoms, liberties, and protections.