In the spirit of Thanksgiving, I thought I would still write an article today addressing a few of the things I'm grateful for, specifically as they relate to the world of preparedness. Here are just a few. I hope you don't mind my sentimental indulgence for one day. I'm grateful that I've been taught
throughout my life about preparedness and that as a result I'm able to teach others now. I'm so fortunate to be able to DO that which I'm passionate about! I know I'm not "special" or particularly "amazing" in my knowledge of matters of preparedness. I'm simply the product and proof that Heavenly Father will teach us if we truly want to learn. I'm grateful for sprouts. I'm amazed at how miraculous they are; at how powerful one little teeny tiny seed or grain can be—packed full of nutrition and even idiot proof to grow! I love how munching on them alters my appetite, my mood, and that they are delicious.
Preparedness Pantry Gratitude
I'm grateful for wheat! What an amazing food that God has given us. It's a vegetable, a hearty grain, a quality protein (in the form of wheat meat), a useful starch, and the base of a lot of yummy and comforting foods! I'm grateful to be able to learn from history. I'm grateful that none of us have to suffer a trial of discomfort alone or anew. Thanks to history, we have countless experiences that we can learn from that others have endured before us and thus when times get tough, we truly aren't alone…not in the experience, not in the emotion, and not in the discovering the solutions. I'm grateful for the scriptures. They truly help me to be better prepared and to be at peace. Through the scriptures I get to realize that I'm not being punished, per se, I'm simply living through the just punishments that the Lord will dish out. I can live through these types of events thanks to the warnings of the Lord.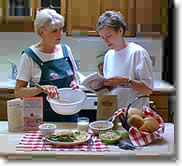 Preparedness Experts Gratitude
I'm grateful for all of the experts who have taught me throughout my life in ways that will make me safe, secure, and able to thrive even in the midst of a crisis. Wendy DeWitt, LeArta Moulton, Rita Bingham, Jan Burr, James Wesley Rawles, Pat Frank, John, Amy, Karen, Barbara, Wesley, Beverly, Tina, James, and so many nameless others—you have taught me some of what you've learned and helped me improve and grow in my preparedness efforts so much! Thank you! I'm positive that lives will be saved as a result of you sharing your knowledge. I'm grateful that my husband and I are equally yoked when it comes to preparedness. I know that many spouses struggle to get their sweetheart to see the importance of preparedness the same way. I know it must feel lonely to be trying to accomplish preparedness on your own. And I'm so grateful that that's not one of the trials I have in this life. I'm grateful to my best friend--my husband, my sister, "Sissy", and my dear friend, Vicky, who all push me further in this endeavor to educate, learn, explore, and to be passionate about this topic. With these three choice individuals in my corner here on earth, I feel like I don't need another angel in my life or any "lucky break." I'm truly blessed beyond words thanks to these three who believe in me and wholeheartedly support me. Even better, they believe in what I'm doing and help to educate me in the process as well. I'm grateful for all of the wonderful people I have been able to meet as a result of Preparedness Pro. So many people have pushed me to learn more, probe deeper, be more professional, and to master my craft. I've received hugs, "love notes," smiles, and encouraging words—priceless gifts when you're spending all of your time and effort to educate on a topic that's not readily received.
I'm grateful to a mother who hauled around yellow 50 pound bags of wheat no matter how many times we moved. As a single mother of 5, she still managed to remember that tomorrow will always come, but we still need to be prepared for it. She did her best to teach me about food preparedness and trusted that I would learn the rest as I went a long. My step-mother taught me how to cook sensible dishes with what you have on hand and how to make a few simple ingredients sufficient to feed a small army. I'm grateful to both of these women in their efforts to teach me. I also have to say that it's credit to both of these women that I'm not shy and that I'm comfortable speaking in front of others. I remember both of them working with me on my enunciation, stage presence, vocabulary, etc. Being comfortable in front of others has definitely aided me in my efforts with Preparedness Pro. Lastly, I'm grateful for hope and peace—without which I could never continue in my efforts to be independent and prepared. I have a hope for the future no matter how depressing or evil the times may seem to be. And I have peace knowing that if I truly do my best to be ready, the Lord will take care of the rest.
© 2019 Of COURSE this post is Copyright Protected by Preparedness Pro. All Rights Reserved. NO portion of this article may be reposted, printed, copied, disbursed, etc. without first receiving written permission by the author. This content may be printed for personal use only. (Then again, laws are only as good as the people who keep them.) Preparedness Pro will pursue all violations of these rights just as vigorously as she does any of her other freedoms, liberties, and protections.