by Kellene
Yup. You read that right. I hate emergency preparedness. I loathe the use of the phrase "emergency preparedness."  I suspect that some psychotic Anarchist came up with the phrase in an attempt to capitalize and commercialize fear.  The word emergency is intended to quicken the heart beat, make the breathing more shallow, make one feel out of control and vulnerable and replace confidence and competence with debilitating anxiety. The very use of the word "emergency" sucks all of the peace out of the word preparedness. To me "emergency preparedness" is much of an oxymoron as is "stimulus bill." It's no wonder the words
prepper, survivalist, and food storage get the reactions that they do today.  I've never once seen the term "emergency preparedness" in the scriptures. In fact, I don't find the word crisis, chaos, or emergency anywhere in the scriptures. (That should tell you all something, by the way.)
Emergency Preparedness doesn't always bode well in conversation
Picture this. You're at a big dinner party. You're mixing and mingling with folks. Interacting. Asking about their lives, work, families. Heads are bobbing mutually in polite enthusiasm and smiles. Conversation continues as the awkward phase between two strangers commence in an effort to create a new friendship.  Every great relationship has to start somewhere, right? I'm sure you can all relate to this process of socializing.  I love it…until I hear "the" question.
"So, what do you do for a living?"
"Darn, I think to myself. And we were getting to know each other so well!"
Regardless of which component of my work I share with them, I know that I'm likely to get one of the three following responses.
1- Boring and useless: When I see this expression I feel about as sexy as Michael Moore in an American flag printed Speedo. They can't relate whatsoever to what I do, what I'm passionate about, and why I care. They go from gregarious to bordering on rude.
People sometimes view emergency preparedness experts as a little "crazy"
2- Crazy: Most of you know what I mean by this response. The people who think I'm crazy are wondering why Martha Stewart was put in jail and yet somehow I've managed to stay on this side of the bars.
3-Know it all: This is the most painful response of all.  Those who think they know all there is to know about preparedness are dangerous not only to themselves, but to those they share their "wisdom" with.  My mom always said that the only thing worse than being alone is being with the wrong person. I like to apply that motherly advice towards knowledge in the world of preparedness—the only thing worse than being ignorant is knowing the wrong information. To make matters worse, these people actually tend to be the ones who actually put the word CRAZY in survivalists.
So really, why does the term emergency preparedness cause such abrasive and caustic responses? Why does it have the ability to divide loved ones as powerfully as abortion rights, gun rights, and political beliefs?  The answer is actually quite simple.  And if you want to be more successful in influencing others that you care about to jump on the preparedness band wagon, you'll embrace what I'm trying to teach you today.
The only "emergency preparedness" folks relate to is the stuff that Hollywood depicts on screen.  They know that's not real, right?  You know, that Armageddon, The War of Worlds, Meteor, The Day After Tomorrow, 2012 kind of stuff.  Couple that with what little they know about the cataclysmic events in the Old Testament, and you have an absolutely foreign world.  It's true. You're more likely to get someone to believe that human beings descended from apes than you are to get them to believe that they need to have a year's supply of food and water on hand.  Such an apocalyptic scenario is completely unrelatable to most, which is why they truly think that people who believe in the need for emergency preparedness are crazy. Sure you can enjoy the entertainment of science fiction movies, but  you don't believe in this stuff, right?
The term emergency preparedness makes no sense to the rational mind.
This is why I've come to loathe "emergency preparedness."  It's an ineffective approach to helping people get prepared. In fact, it has the opposite effect. It's ridiculous to think that folks will ever prepare for something that's so far fetched.
A worldwide war? Nah. Our government will protect us
The Hollywood version of the Last Days is what most people think of when they hear "Emergency Preparedness"
A complete financial collapse. How's that possible? Can't we just print more money?
A food shortage? I'll just go hunting and get water from the nearby lake—like thousands of other people.
A massive earthquake? Nah. We haven't had one of those for 100 years.
A pandemic? No. That's what immunization shots are for.
Successful preparedness only happens when you can actually relate to the reality of a scenario in which you would need to be prepared.  Admit it. Even YOU didn't jump on board at first with some of the scenarios I've mentioned above.  Some of you haven't embraced all of them yet either. It takes time, process, studying, digesting.   Why? Your heart and mind are still maturing and resolving how you're going to handle such a scenario.  Your consciousness simply cannot solve a problem that it cannot accept as being real.   However, there ARE plenty of more relatable scenarios that will better compel folks to becoming better prepared.  The believability of the scenario is what compels folks to be prepared, not the term "Emergency preparedness" accompanied by the theme song from the movie, "Jaws."
I hate shots. I really, really have a hard time with them. Why? Because no matter what I do, I simply cannot prepare and properly anticipate how much they hurt.  I remember having a "diagnostic test" done.  It was supposed to be "painless" and feel like nothing more than what an acupuncture treatment.  However, 45 minutes later I had honestly endured the most painful experience of my entire life. During the procedure I had literally prayed that Heavenly Father would just take me then and there instead of me having to endure it any longer. I was sobbing the most pathetic cry I had ever heard come out of me.  Yup. NO way to prepare for that kind of an experience right now—not if you still want me to go through with it.  Unfortunately, I think that many people view "emergency preparedness" the same way.  Most rational persons block out the horrific.  They don't trust that they can endure it.  They are afraid of what strength they will be called to provide, never having been tested in battle against an unfathomable opponent.
Here's the reality of things.  When I come home from a long day and I've got less than 40 minutes to get ready for my next appointment, freshen up, and prepare a meal for my husband. Then my phone rings. Leslie has just had her baby. Can I take a dinner over to her--tonight?  Now you see?  THAT is a realistic "emergency" to me. Can I get through it all without biting my husband's head off because I'm tired and hungry?  Can I actually cook something nutritious and stay on budget without having to purchasing expensive, processed garbage?  Can the food be tasty enough that the woman and her family don't later ignore me at church?
Getting the kids to where they all need to be. Utility bill rising 700% over a period of three months.  Learning your oldest son struggles with depression. Having a family of 8 move in with you due to their home being destroyed in a fire. Gas going up to $4 a gallon. Fixing a flat tire on an 8 lane freeway. The death of an immediate family member.  A hurricane runs through your community. Raising a child with Downs Syndrome. Discovering your spouse has been unfaithful. Getting lost in downtown Baltimore.  A "noreaster" ice storm.  Being accidentally locked in a public restroom. Your household loses its primary breadwinner. Discovering that the pillar of your church and community is really a drug dealer and a sexual predator.  Your minimum mortgage payment doubling while your home's value plummets to 70% of your existing loan. The lap top's hard drive crashing.  Your family is involved in a serious car accident. Etc., etc., etc. THESE are all realistic "emergencies" to be prepared for so that you can minimize the stress and strain and make it through with the maximum amount of peace possible. THESE are scenarios that we can more readily relate to. THESE are emergencies we can overcome and conquer in strength and dignity with some preemptive steps of preparedness. If folks will begin to think of preparedness in terms of realistic scenarios then their mind and heart can tackle such battles mentally and physically. Every crisis which is averted and every one of life's scuffles that we make it through, allows us to be prepared for bigger and better.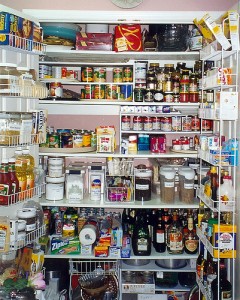 A full pantry equals peace of mind
You're not crazy. Your understanding of an emergency has simply elevated to a level which is unfathomable to others.  The more you can realistically conceive, the more you can be prepared for.  Yes, we've all got to start somewhere. Us "crazy folks" are simply further along in our mental process than others whose idea of stress is when the mean girl doesn't get voted off of "The Bachelor." Understanding this will help you to be more successful in helping others with their preparedness efforts. When you're discussing preparedness with others, leave the term "emergency preparedness" out of the conversation. Make their thoughts about preparedness more about self-reliance, independence, and adaptability to change. And provide them with realistic scenarios that actually apply to their life. To encourage their more advanced mental preparation, give them realistic "what if" scenarios to mull over. Back up your scenarios with calm and intelligently laid out data. The only emotion that you want to bring into the conversation is that of the sincere love and concern you have for the well-being of the person you're talking to.  Keep in mind that the very word "emergency" garners panic, chaos, and fear.  Who in the world wants to be prepared for THAT?  Make sure that you keep learning as well.  And remember, preparedness is peace. Emergency is fear. Good luck with your efforts to help others prepare and to advance in your own preparedness efforts.
© 2019 Of COURSE this post is Copyright Protected by Preparedness Pro. All Rights Reserved. NO portion of this article may be reposted, printed, copied, disbursed, etc. without first receiving written permission by the author. This content may be printed for personal use only. (Then again, laws are only as good as the people who keep them.) Preparedness Pro will pursue all violations of these rights just as vigorously as she does any of her other freedoms, liberties, and protections.