Course Correction—I Was Wrong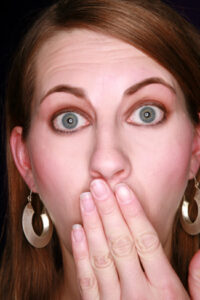 You know you're in for a bumpy ride when I start out my article saying "PLEASE DO NOT PANIC", right? Well hang on. And keep your screams muffled in front of the children as well as the non-preparedness-believing spouse, OK? You don't want to undo any traction you might have gained recently, right?
OK, Folks. This whole food shortage series that I've been writing about the past few weeks—well, I was wrong. Sorry. Produce is not going to escalate at triple rates by the end of Spring.  Nope. It's going to QUADRUPLE! Why do I say something so outlandish? Well, remember that I told you we have the makings of a perfect storm? Well, as it turns out there is a component that I did not tune into, and it's a big one to "miss." It's so significant that it's easily enough to send food into a hyperinflation much worse that I though. (Of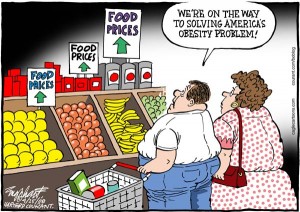 course that's never a term that you'll hear our government use because they conveniently eliminate the two most volatile and universal of every family's needs—food and fuel—from their "inflation" calculations. *sigh*) So up until now, there were still two more components that I wanted to address to this "perfect storm". Frankly, I wanted to take a tiny little break from all of it. And as it turns out, it was a good thing I did because I would have had incomplete information.
It's no secret that unemployment/underemployment is sky high. This means that more and more folks are reaching their hands out to the government for welfare.  Well, let's remember where welfare benefits come from…taxes, right?  So, if people aren't working they aren't paying into the taxes, right? Problem—she says in a sing-song voice.
Next, city and municipal jobs are maintained because of taxes, sales and property taxes, right? Well, if folks aren't buying as much as they used to, they certainly aren't paying as much in taxes. And when it comes to property taxes, I think that there's not a single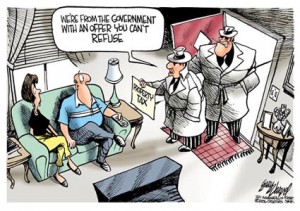 person in the U.S. who would accept an INCREASE in the valuation of their property right now, do you? After all, we all know that we've been fleeced for a long time with inflated appraisals, right? So if they can't increase the property taxes, then they can't keep all of the programs in play for those who need them. Did I mention the other little tiny problem of the fact that since every sizeable city in the U.S. is losing their previous stellar credit rating because there's finally been some reckoning of the financial disaster they are all in—and have been for a long time. Mind you that part of this whole credit rating decline has to do with Moody's as well as Standard and Poor's saving of face, since they played a serious role in the whole mortgage collapse by rating the mortgage packages of "no income, no credit score, no nothing" as stellar, no stink,  AAA. (But that's a story for another time.)—Ruh roh!
So, now that the cities credit ratings have been lowered, they are no longer in a position to sell bonds to keep their cities operating. What? I thought that taxes we paid kept them going! Well that would be true only if we had city government that spends only what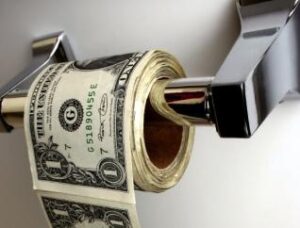 they earn.  But that's such a passé, old fashioned kind of rule, isn't it? Wait. It's not really a rule. It's more of a suggestion really. This inability to raise more money impacts schools, medical subsidies for hospitals, business subsidies, senior care, crops, universities, public safety service, communication technology, utility services, and so much of everything we take for granted in our homes. It also means that they won't be able to honor those cushy little backroom deals they made with big companies in an effort to attract them to move into their city. I mean really, if you were running this kind of a circus and you had the multi-million dollar shortfalls this year, the first way to fix it is to wiggle out of the multi-million dollar tax deal you gave Corporation X as an incentive.
And now let's look at the money generated by the tax on gasoline.  Just because the price is skyrocketing—and mark my words, you can expect a 1/3rd increase in the price you're presently paying for gas this week within the next two weeks—doesn't mean that there are more tax dollars being paid.  And since the price of gas is sky-flippin-high, then it means that people are going to cut back on fuel wherever possible.
OK. Not quite done yet, Folks. So you all know about the "mortgage bust" scenario, right? Chances are you're a PART of the whole mortgage bust scenario. For starters please do not be disillusioned. It's not over. I promise you it's going to get worse—and not just on the residential side.  The reason being is that for every short sale or foreclosure that goes through, the banks actually make MORE money than if they finagle a loan modification.  You see, this little 'ole organization known as the FDIC, guarantees that when they sell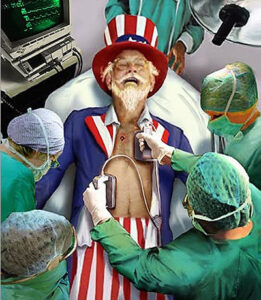 mortgages that were taken over when a bank is closed down, they will pay the new mortgage  holder 80-95% of the loss they will incur in the event that the home has to be sold via a short-sale or a foreclosure. Yes, I also am questioning why in the world the entity which is supposed to be insuring OUR assets/deposits, is now insuring the bad mortgages sold to other banks… So yes, this means that there's absolutely no financial motivation for the banks to NOT foreclose on a property. But here's the problem; the FDIC is already short on funds (which, in my personal opinion is exactly why we've seen the "close-fest" of banks cease abruptly. I assure you it's not because they are suddenly running wisely and with good balance sheets.)  The FDIC bit off way too much too fast.  They get their money from the U.S. Treasury (aka taxpayers) as well as the banks themselves who pay into the FDIC. But wait, we've closed down so many banks, we don't have as many banks to pay into the FDIC.  You see, the closing of banks was actually a sweetheart of a deal for the banks, believe it or not.  Only those persons who were seriously connected to the biggest of the big wealth were "privileged" to purchase the repossessed mortgage notes because it was such a sweetheart of a deal. But when the FDIC tried to put a huge administrative fee requirement on the banks that it was still protecting, they forgot all about the sweetheart deals and threatened a mutiny of sorts.  FDIC only has 1/10th of the amount of money that it presently insures. Hmmm…what happens if the FDIC goes bankrupt? You see, that whole "don't worry folks, we'll increase your FDIC coverage now to $250,000" thing was just for show because $250,000 times zero is still ZERO. But wait, there's MORE.
So I've just described to you the residential mortgage fiasco. Now brace yourself because there's about to be a horrendous commercial mortgage fiasco that will make the residential mortgage flub look like a missed line on the Carol Burnett Show—downright funny, with tears mixed in. At present there are over $1.4 trillion dollars worth of commercial loans that MUST be refinanced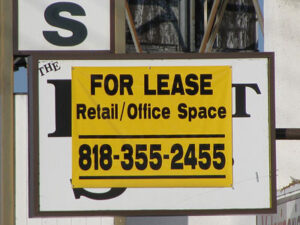 because they are coming due. Whether or not a commercial property owner gets approved for a loan is determined by the amount of income the property brings in. Yes, I said PROPERTY, not person.  So you could, in a weird scenario, have a wealthy billionaire running a failing restaurant but not be approved for a refinance because the business is failing.   So let me ask you this. How many business do you think are going to merit qualifying for a new commercial property loan after being beat up financially every which way for the last 3 years? Oh, and just one more little fly in the ointment. Commercial financing doesn't go anywhere near as high of loan-to-value as residential mortgages do. And out of that $1.4 trillion dollars in loans that are being called due, over half of them are underwater. Yeah, this is about to get really ugly, not only from a financial crunch, but also in consideration of the fact that you're going to start seeing an even larger number of commercial properties vacant. Commercial properties account for over half of all of the property taxes raised by any municipality.  Double Ruh-roh.
By the way, are you aware that there has NEVER been a crisis in our nation in which the FDIC was nearing bankruptcy?  Prozac anyone?
Do you see the picture I' m creating here folks? We could easily get into a situation in which keeping the Federal Government running is the least of our worries. What will happen if we can't even keep the doors open on our own municipalities?  Can the FDIC absorb all of the commercial mortgages like they did the residential ones; nope? This means that the banks have NO safety net. This also means that the banks which will be failing because of unpaid commercial mortgage balloons will continue to drop like flies.
Now take a moment and imagine the message that such a scene is going to send to people when they drive by their local police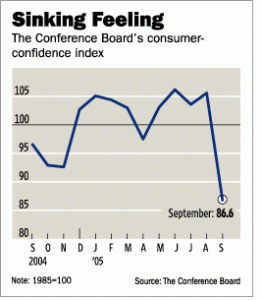 department and see only a few lights on? The parks with weeds up to the knees in the summer time; the city pool closed for lack of funds; the library with chains on the doors. Anyone want to see a repeat of snow removal that didn't take place in NYC this year? How about all of those empty commercial buildings with nothing but hooligans hanging out exchanging the latest rage in "distraction and denial medication"? Combine that with the other factors they are seeing—formidable prices of food, fuel, clothing (don't forget the 130% raise in cotton prices these past two months), etc.  This will have a very direct impact on your friends and neighbors that will be so surreal, no talking head on the evening news will be able to convince you otherwise, even with their contrived "report" of the Consumer Confidence Index.
Get ready, Folks. If we are blessed, SOME of this will not transpire. But if we are wise, we will be ready regardless. Remember, listen to your gut; don't go crazy trying to get prepared in a frenzy—that doesn't work. You've got to do this in tune with your core values and beliefs.  Peace in your preparedness.
© 2019 Of COURSE this post is Copyright Protected by Preparedness Pro. All Rights Reserved. NO portion of this article may be reposted, printed, copied, disbursed, etc. without first receiving written permission by the author. This content may be printed for personal use only. (Then again, laws are only as good as the people who keep them.) Preparedness Pro will pursue all violations of these rights just as vigorously as she does any of her other freedoms, liberties, and protections.