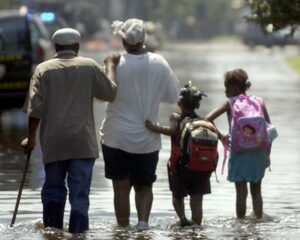 "In a crisis, your food supply is everything" claimed the front and center advertisement on a popular news website.  Adding to the ridiculousness of the ad, a military scene is featured in the background, overtly attempting to insinuate that our nation's faithful military will be helping those in need during an emergency scenario. Two things are really wrong with this picture. One, food is definitely NOT your "everything"  in ANY crisis, and secondly, when there is a legitimate crisis, there's absolutely no evidence that we have any reason to expect that the military will be present to render aid.
Let's get back to the fundamentals here folks.  Ask yourself this. When was the last time you were really, really scared? How about the time before that?  And before that?  Did ANY of those occurrences involve a dire need for food?  Exactly. Just as I thought. This should tell you something about being better prepared.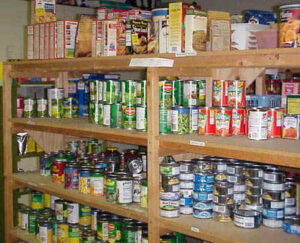 You betcha it's important to be self-reliant in the matter of food. In fact, I strongly suggest that everyone who reads this cease making any kinds of excuses and diligently work on getting a supply of nutritious, shelf-stable, and self-sustaining food that will last you and your family for a year.  But food is not your "everything." In fact, it's not even your "secondary everything."
Last weekend I received a phone call from my friend who's been battling breast cancer. She's finished her chemotherapy, and had a double mastectomy and is now readying herself for her radiation treatment.  When I answered the phone I couldn't really tell if she was crying, panting heavily, or what. All I know is that she asked if I could come right over.  Not quite ready for my day I quickly threw on my track suit, pulled my hair back into a ponytail, grabbed my purse and cell phone and left.  I can assure you I never once thought to myself "Oh, I wonder if she's eaten already. Perhaps I should take some food to her." Nor did I think, "Oops, I haven't eaten yet today. I better take something with me."  Instead my mind played through the scenarios of what could be going wrong, why this stalwart and courageous woman would need to call me for aid. I uttered a prayer of a sharp, clear and calm mind and safe travel.  I ran through the mental checklist of what I might need to address for her.  When I let myself into her home, she was sitting fully clothed on her toilet, leaning over the nearby sink—as if it was all that was holding her up off the floor, gasping in pain, breathing quickly, and speaking to someone on 9-1-1—barely able to pronounce her name.  I could feel my pulse quicken immediately, as I grabbed the cell phone, uttered assurances to Susan (not her real name) and communicated with the emergency representative. I'll stop relaying the details at this point, but suffice it to say I had my first ride in an ambulance and spent the greater part of the day in an emergency room.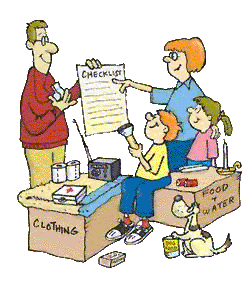 I can assure you that there were a heck of a lot more important Principles of Preparedness that came into critical play this weekend than food.  This is why it's so concerning to me to hear so many who are interested in becoming more self-reliant, focusing primarily on this one, single principle—exhausting the majority of their financial resources, energy, and time on this one principle at the risk of completely ignoring the other, more critical principles. You don't need me to tell you what the prioritized Principles of Preparedness are. All you need to do is to think back on when you were fearful or seriously concerned and remember what you did and thought about first. That will be a good indicator and evidence to you as to what should be a priority for you.
Next, let's just briefly address the second part of this advertisement—that which would allude to the presence of military personnel coming to our aid.  You know, we have several instances in history in which we have an overwhelming amount of evidence which proves time and time again that the military have a very specialized purpose in assisting us. That purpose is primarily our protection and if there is ever a scenario which is so dire that they are needed for protection, chances are they will be battling at the root of that aggression, not policing the streets on which we live. There are so many scenarios which would require us to have had the foresight and action to be self-reliant in spite of an interruption of our present comforts.  And of those scenarios, I can think of very little in which it would be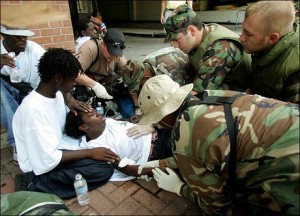 appropriate or realistic for our military to be involved. Additionally, the wider the impact of the scenario, even one that is appropriate for the military involvement, the less likely it is that any one of us will be among the fortunate to have them right there to "save" us.  Think about it. When the bombs dropped on Pearl Harbor, there were numerous civilians killed regardless of the strong military presence. Even the notable skills of the Navy S.E.A.L.S are no match for an earthquake or a financial collapse.  We'll all do well to remember that the military and our other government and municipal workers are just people—people who have families, weaknesses, and vulnerabilities which are no match for most truly serious scenarios. The Hurricane Katrina experience did a good job of reminding us that when things really go south, many of these public servants are understandably inclined to see to the needs of their own families first.  After all, families are forever, whereas a job is oh, so temporary.
As a reminder, the 10 Principles of Preparedness are as follows, in order of prioritization:
Spiritual
Mental
Physical
Medical
Clothing/Shelter
Fuel
Water
Food
Financial
Communication
Just as a reminder, we have less than two weeks for you to enter to win this month's giveaway. Every time you comment on any of the articles, of comment on our Facebook page, you increase your chances of winning! This month's giveaway is great! "Desk Reference for Pure Therapeutic Essential Oils" by Dr. Dana Young—a $65 value! Good luck!
© 2019 Of COURSE this post is Copyright Protected by Preparedness Pro. All Rights Reserved. NO portion of this article may be reposted, printed, copied, disbursed, etc. without first receiving written permission by the author. This content may be printed for personal use only. (Then again, laws are only as good as the people who keep them.) Preparedness Pro will pursue all violations of these rights just as vigorously as she does any of her other freedoms, liberties, and protections.