Today's articles is going to be just like what I would say if you were one of my friends that I happened to come across today. So when you read this, picture my eyes getting really big and my voice getting louder and louder with enthusiasm. Ok. Ready? Here goes...
Hey Folks. I've been tied up in meetings from morning to night the last two days. But thank goodness I had a lunch break yesterday. Since I was in the vicinity I decided to check out Blue Chip Foods special sale (located at about 3500 S. and 500 West in SLC) they are putting on this week and next (sale ends October 8). Uh, boy am I glad I did! I came home with about 42 #10 cans of some of my favorite and necessary items and only paid $159!!  I could have gone a little bit more crazy than that, but the lunch break was only so long. Anyway, I just had to let you in on some of the deals that I saw there. I couldn't believe it—they were so good I didn't get into any trouble from my husband for spending outside of our budget. *grin*
(by the way, these sales are on a first come, first serve basis and are only while supplies last—so I strongly recommend that you RUN to Blue Chip as soon as you can!  I saw folks loading up their carts left and right.  There are also a couple of great deals online for those of you who are not local.)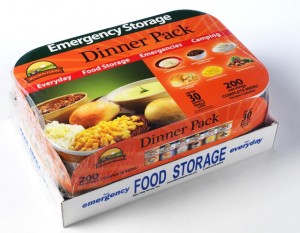 Before I rattle off some of the singles, I wanted to tell you about the 12 pack special they had. They have a Breakfast pack and a Dinner pack, each pack has 6 #10 cans of ideal items you can mix and match for these meals.  I mentioned them several months ago when they first were introduced into Costco. At that time each pack was only $57, which was a heck of a deal. But for this two week special you get one of each for only $100!!
Remember, these products (except for the muffins) are sources of great nutrition that have 20-30 year shelf life! I use these items regularly in my home. And I simply supplement then with some other great nutrition (like I referenced in previous articles on food fermentation and sprouting.) Here are just a few highlights for the other #10 cans I saw:
Kidney Beans, Black Turtle Beans, Soy, Mixed Beans, only $5! I couldn't believe how cheap these were. (By the way, they have the kidney beans on sale online for only $5 too for those of you who aren't local.)
Morning Moo's Milk (chocolate) $5
Morning Moo's Milk (regular) $8.85
THREE pounds+ of elbow macaroni for only $3! (Remember, this has a much longer shelf-life than the stuff you buy at the grocery store!)
One of my favorites: Potato Gems—already seasoned with salt and butter—only $3!!
Butter Powder only $10
Strawberry flavored apple flakes—only $5. I love to use these in my muffin mixes, pancakes, and oatmeal. YUM!
Beef TVP- $5 (I use this when I make Beef Stroganoff casserole. My husband doesn't have a clue that it's not "real beef"—unless one of you squeals on me. *grin*
Bread and roll mix--$5
Freeze-dried Chili-$5
Cheese Blend (powder)- $5
Vital Wheat Gluten-$3
Wheat-$3—yes, I said THREE DOLLARS!!
Almond Poppyseed Muffin Mix (DELISH!)- $7
There were huge discounts on their freeze-dried fruits such as pineapple, raspberry, blueberries. Normally I pay over $30 for those. But they were only $15!!!
Chicken of Beef Gravy—$9
I got freeze-dried celery and spinach for only $7 each. And I also got several of their gluten-free products that I'm going to be giving to a special friend. Most of those products were only $3 each!
Seriously folks, if you can do it, get your fanny over there. There are some absolutely amazing deals—especially in the back in the warehouse section!
By the way, they will be handing out free bread and soup on Friday the 1st of October from 10:30 a.m.-2:30 p.m.  The local radio host Doug Wright will also be there. AND they are doing a free breakfast the next morning as well. YUM!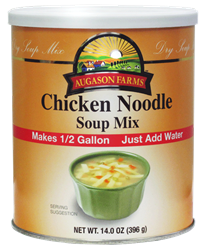 Also, if you haven't tried their new soups in the 14 ounce size yet, you may want to do that. Macey's has them on sale this week for only $2.50 each AND hol-lee cow their new hot cocoa is to die for! Seriously, it's even better than the brand I've been buying all these years and less expensive too--about half the price! If you are one of my friends, you can expect to be getting that this year for Christmas!
One last thing--you know I love their freeze-dried fruit, right? Well, they are doing a special promo through the local Costco's in Utah County. There is a three pack of freeze-dried strawberry, blueberry, and raspberry. As best as I could tell, it was less than the retailers can get the product wholesale! Each Costco is only getting 2 pallets of them, so I'd definitely put that on my errand list this week if it were me.
Happy Shopping and Preparing and "May the force be with you." Hee hee
© 2019 Of COURSE this post is Copyright Protected by Preparedness Pro. All Rights Reserved. NO portion of this article may be reposted, printed, copied, disbursed, etc. without first receiving written permission by the author. This content may be printed for personal use only. (Then again, laws are only as good as the people who keep them.) Preparedness Pro will pursue all violations of these rights just as vigorously as she does any of her other freedoms, liberties, and protections.