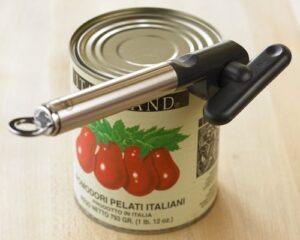 I actually think it's quite comical that I'm writing about this particular topic. But hey, every aspect of self-reliance should be addressed at least once on here, right? So what the heck.  Though the humor of this scenario comes from the fact that during the course of the  last two radio shows I've shared some "controversial" information (particularly on Wednesday's show about The Medical Lies).  While I simply set a few misnomers straight on this morning's show, I find it delightfully humorous that I got so many e-mails after the show regarding what I mentioned briefly about can openers.  You would have thought I exposed the fact that the dish had run away with the spoon and that the can opener orchestrated it all. *grin*
So, the tantalizing statement I made was that I refuse to allow an electric can opener in my home.  Seriously, I think that they are just a hilarious invention that's mostly unnecessary. I can understand someone with arthritic hands needing one, or some other similar reason, but when I go over to my girlfriend's house for dinner, I can use the hand can-opener and have a can open just as fast as she does using the electric. Here's the really funny thing. I was teaching a cooking class to a bunch of young, teenage girls a few months back, and a couple of them literally did not know what the manual can opener was that I had brought with me.  Now that's just sad (and sadly humorous too, if you ask me). Can you just imagine the mortification of their mother if she knew that they didn't even know what a manual can opener was?—at least I hope there would be some discomfort there. Perhaps when she finally told her daughters about the Easter Bunny not existing, she accidentally said "manual can opener." Yeah. I could see that. Those two phrases sound an awful lot alike.
I have a friend in Ohio who teaches "Home Economics" (yes, they do still teach that in some areas of the U.S.—thank goodness). She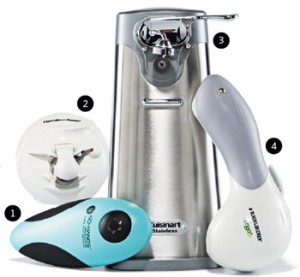 was telling me that she never brings electric can openers into her room and a handful of the students went and actually complained about that fact to the principal—claiming some form of abuse that my friend had the audacity to require them to use a manual can opener instead of an electric one. *sigh*  The icing on the cake was when I was watching a competition show on a cable cooking channel (I believe it was The Food Network).  One of the chefs was unable to get the electric can opener to work for him. The network had to "bleep" his tirade directed at the can opener as he struggled to work with "this *bleep* American toy that had no business in the kitchen."
OK. So cutting to the chase here, please, please, please be sure that you have at least three manual can openers on hand. (Remember, "3 is 2; 2 is 1; and 1 is none".)  Your state of self-reliance just isn't complete without them. *grin* Make sure that you and everyone in your family is familiar with how to use it. Also, I personally would not skimp on this particular purchase. Don't get the all metal ones. After opening 6 cans at a time, this can be quite tiring and even cause a medical emergency. (Remember that in times of "survival" even something as simply as a blister can turn into medical emergency).  Remember that it's imperative that you think about your tools from a conservation of physical energy viewpoint.  Personally, I love my OXO can opener. It's easy on the hands and also gives me the "safe edge" on the metal lid.  I also am partial to my Pampered Chef can opener. To be honest, I can't pinpoint exactly why on that one. It's
nice and sturdy; heavy; but it seems to take little to no effort to use as well.  There's also a favored brand known as "Swing-A-Way" that several of my prepper friends mention. In a pinch, the military type "P-38" can openers will do, but only if you practice with them ahead of time. Otherwise you may simply be teaching your children how to talk like a sailor, rather than open a can like one. They easily go right on your keychain. Be sure you select one with a sturdy metal and not some "made in China" dollar store knock-off.
So, what do you do if you find yourself without a can opener?  Throwing that can against the rocks over and over isn't such a good idea when it contains life-saving beef stew, right? Well, my suggestion is to rub the top of the can in small, strong circular motions on pavement (kind of like sanding). You'll quickly wear down the lid this way. If it contains a liquid substance, then you'll have to do things the other way—you'll have to rub a rough rock or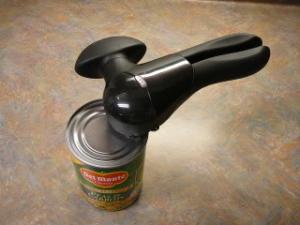 other like item over the top of the lid instead. It's tedious and doesn't work nearly as fast, but it will give you an open can without wasting key contents.
By the way, I wouldn't be too quick to throw away your cans if you find yourself in a survival mode. They can be used as "pans" to cook foods inn—soups or bread—or as an "early warning device" when tethered around the perimeter of your home. They can also serve as a alcohol stove (though usually only one or two uses) if you've got some "Heet" or denatured alcohol. They can also be used to safely hold candles, draw water or fine powder items. And if you have the foresight to get some of those lids which fit any regular sized can, they could come in handy when you want to share some of your food but your Tupperware is a bit to valuable to just send off with someone.  (In fact, I specifically have quite of a bit of that "Press and Seal" product specifically for that occasion.) What good is having a little excess you can share with others if you have no containers in which to put the shared items?  If you punch small holes around the bottom base of the can, you'll also have a good container for planting herbs and other small plants. Of course you can do the same with the larger #10 cans as well. Then again, you can use them as target practice like my husband does. (I swear he goes through the trash all the time just to make sure I'm not throwing out perfectly good "targets". ) I also like to use the cans for items that I simply don't want to put in anything else such as paint, or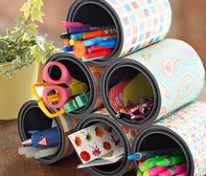 paintbrush cleaning agent, etc. For the OCD inclined, they are a great way to keep nuts, bolts, and other items organized out in the garage. (Yes, Honey. Those things belong out in the garage, not in the linen closet.)
OK. So I don't need to go on and on regarding the many uses of cans; but the point is, if you have to mangle every can of food you've got in order to get it open, you're wasting a perfectly good asset. So, forget the electronic can opener. It won't always be there for you. Put your trust in a good manual can opener instead.
© 2019 Of COURSE this post is Copyright Protected by Preparedness Pro. All Rights Reserved. NO portion of this article may be reposted, printed, copied, disbursed, etc. without first receiving written permission by the author. This content may be printed for personal use only. (Then again, laws are only as good as the people who keep them.) Preparedness Pro will pursue all violations of these rights just as vigorously as she does any of her other freedoms, liberties, and protections.
Related Content: