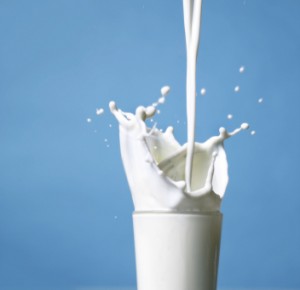 When it comes to milk, I'm fairly comfortable in my present state of readiness. I finally discovered a couple of palatable powdered milk options and so I've stocked up on that when it's on sale, which brings its cost down to about 99 cents a gallon. It takes up quite a bit of space; but given the fact that I can make yogurt, ricotta cheese, sour cream, and buttermilk from it, I've been fine with that requirement.  I was drinking my powdered milk regularly and using it for all of my cooking and baking needs until I read "The Untold History of Milk" by Ron Schmid.  I became a convert to drinking whole, raw milk from that time on.  
It's more expensive, of course, and it won't be available to me in the midst of a shortage on food or some other similar scenario, but I believe that I'm taking advantage of the health benefits of raw milk while I can, and I'll rely on my alternatives later—assuming that I don't ever get in a position in which I can have my own dairy cow.  However, recently I was discussing dairy-free options with an astute friend of mine, who's fiercely loyal to a world of nutrition. She and her family live mostly dairy free and she makes her own almond milk. She offered to share some of the fruits of her labor with a group that I was a part of, but I told her that I felt bad asking her to do that because I was certain that almond milk was so costly. But boy am I glad that she set me straight! I was shocked when I realized that I had a completely wrong impression of the expense required to make one's own almond milk!  Did you know that only ¾ cups of raw almonds are needed in order to make just under a gallon of almond milk? Who would have thought that given the high price we pay for almond milk off the shelves of the grocery store?  So today I thought I'd share with you what I learned so that you have yet one more option in addressing this aspect of self-reliance.
First of all, remember that I'm all about multi-purpose/multi-solution items. If I have to take up space with a particular item, I really try to make sure that it will meet several needs in order for me to give it a piece of rent-free living space. Raw almonds fit the bill in that regard. They are so incredibly nutritious when sprouted; they are an easy snack, and I use them frequently in cooking. They are also a great gluten-free option for folks who really struggle with that.  But hey, now I've learned how easy they are to use in making a wonderful alternative to regular milk! As an added bonus, almond milk doesn't come with the pasteurization, homogenization, chemicals and hormones pumped into it, that's so characteristic of our mainstream milk. So it meets that important criteria for me as well—which I can't say of my powdered milk supply—unfortunately. In the past when I've been able to get the cartons of almond milk for just pennies periodically, thanks to coupons, I have used the almond milk in my smoothies and on my hot cereal. I personally think it tastes great in many of the way's I've used it, but it's not something that I personally would want to drink straight with a piece of pie or a cookie. Fortunately, I don't have those moments of indulgence often enough to feel put out and in discovering the price factor, I'm more than happy to find other ways to use it successfully as well!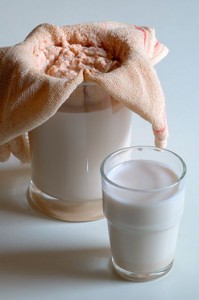 Frankly, you don't need me to give you a recipe or instructions on how to make almond milk.  There are plenty of folks much more seasoned than my "newbie" self that are readily accessible on the internet.  If you do a search on You Tube, you'll find some very competent persons demonstrating how to make the almond milk with nothing more than soaked almonds (until they have doubled in size—which means more nutrition as well) boiling water, a blender and some cheesecloth—note to self, get more cheesecloth. My friend actually has a machine that does all of the blending and draining for you so other than the time required to soak her almonds, it is very little effort for her.  Such a gizmo may end up on my next Christmas list depending on how much wattage it uses. I'm sure I could see my way to allocate hard-to-come-by electricity in the event of a power outage to use the contraption periodically—especially with the trade off of the quality nutrition. Additionally, there are several experienced bloggers who have written plenty on the topic of making almond milk as well as a whole lot of great ways to use it.  A simple search on the internet yielded perfect instructions in the very first links that popped up. So I recommend you check out those options when you can and then actually practice making it once or twice BEFORE you are in a position in which you need to live off of it.  You don't want to stress yourself mentally in the midst of a crisis when you could have made an easy task familiar and non-taxing with a little bit of practice and practical application.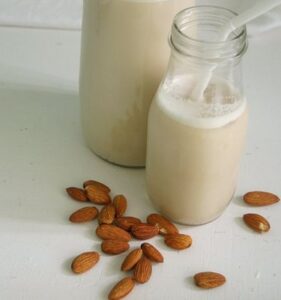 Personally, I'm just tickled to find out that something which I already love to indulge in as a snack and in casseroles and such, can so easily meet some of my "milk" needs for such a nice price. I'm presently purchasing raw almonds regularly at my local Winco for an average price of $3.89 a pound.  The key in all of this is purchasing RAW almonds. Only raw almonds will sprout and produce the kind of almond milk that you want. I understand that acquiring raw almonds may be easier said than done for some of you because the "initialed powers that be" have seen fit in their infinite wisdom to process most of our almonds for us.  But if you're unable to find some raw almonds locally, there are dozens of options for delivery, or perhaps even with a little bit of driving which you can put into your schedule on a quarterly basis. Either way, I'm excited to have learned of this solution and hope you are too.
© 2019 Of COURSE this post is Copyright Protected by Preparedness Pro. All Rights Reserved. NO portion of this article may be reposted, printed, copied, disbursed, etc. without first receiving written permission by the author. This content may be printed for personal use only. (Then again, laws are only as good as the people who keep them.) Preparedness Pro will pursue all violations of these rights just as vigorously as she does any of her other freedoms, liberties, and protections.