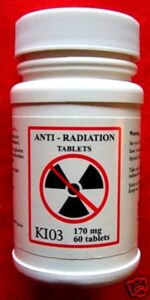 Hey Folks. Rather than write a big, honkin' article on this, I elected to simply post the radio show I did Wednesday night that covers it in-depth. Earlier this week I felt that it was appropriate to begin counter-move measures against radiation poisoning. For some of you who are simply limited to a range of iodide/iodade/iodine pills, that may sound a bit radical. However, if you utilize natural remedies, then you don't need to be concerned about what such option will do against your health, rather what such options will do FOR your health.
On this particular show, I come right out and share with you what my protocol would be, even in face of no-doubt-about -it radiation exposure.  It's actually quite simple regardless if you're 3, 30 or even 90 years of age. And since you're not isolating a particular constituent, the process doesn't come with nasty, dangerous side effects.  So, download the show, take a listen at your leisure, and take steps to be better prepared in the future. One of the most disturbing responses I saw to this was how many people were racing to the internet or health food stores trying to find the tablets.  Well, these exact same natural methods I shared on my show were implemented after Chernobyl, Three-Mile Island, and continually due to the constant leaking at the Marshall Islands. Here's the link:
Take care and remember to act now in peace so that you have such a luxury in the future.
© 2019 Of COURSE this post is Copyright Protected by Preparedness Pro. All Rights Reserved. NO portion of this article may be reposted, printed, copied, disbursed, etc. without first receiving written permission by the author. This content may be printed for personal use only. (Then again, laws are only as good as the people who keep them.) Preparedness Pro will pursue all violations of these rights just as vigorously as she does any of her other freedoms, liberties, and protections.