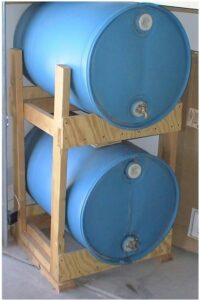 Last night I attended a fascinating medical lecture. The speaker certainly knew his stuff on how to use nutrition and oxygen and plant botanicals to heal the human body. You could tell that he wasn't some newcomer to the scene of health and science. His 15 years of lecturing came through beautifully. I certainly  know that my health will be better for  having attended.  He also did an amazing job in better illustrating for me about the ills of canola oil and other vegetable oils, synthetics in our food, etc. Anyway, for some reason he was asked a question from the audience about water storage. What the audience member thought that had to do with his topic was beyond me, but he went ahead and took time to give her his opinion about water storage—the only problem was he was just a tad off.
Being the consummate "purist" that he is, he hesitates to put anything in plastic unless he's 100% certain that it won't leach into the contents.  (In fact, if you ever want to know if your essential oils are pure AND potent, put a few drops in a plastic baggie overnight and you'll see degeneration the next day.) So in his opinion, when it comes to water storage he would advise everyone to use the hard plastic blue containers at the very least (usually found in 55 gallon increments), but also suggested you go to the trouble of changing them out every 6 months.
Now, I won't go so far are to say he was wrong on this aspect. Again, he is a purist and tries to only nourish his body with the best of the best. But, there's a specific component to his advice that doesn't transfer well into the world of preparedness. I know that a lot of my readers have e-mailed me questions on this topic as well, so I thought I'd set the issue straight.
First of all, yes, it's critical that you store your supplies, whether they be food, water, or even band-aids for that matter, in containers that will not leach poisons into them. I've seen too many folks buy pallets of the cheap bottled water that comes in the really soft water bottles. This is a bad idea.  That plastic breaks down quickly and if it doesn't poison your water first, it will disintegrate the water bottle and all your expensive liquid will serve only to clean the basement floor. So yes, using quality hard plastics is critical.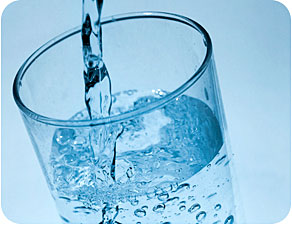 Secondly, when it comes to storing up water for a "what if" scenario, you should err on the side of excess, not minimalistic thinking. Minimalistic thinking is only 1 gallon per person per day for the number of days you are striving to be prepared.  I suggest you go back and do a search for "water" on this blog and catch some of the other articles that I've written about the critical nature of water to your health, your sanitation, and your sanity. One gallon per person is MINIMAL folks.
Thirdly, when it comes to water storage keep a clear picture of why the water is being stored. Just like all of your other preparedness supplies, it is to get you from a point of loss to a point of comfortable living.  What the consequences of this statement means is: no, you do not have to change out your water every six months.  Because if you really wanted the water to be purist of the pure in the container you store it in, you would store it in glass (and risk losing it all in the event of an earthquake), or you would have your own private indoor mountain spring fed source, or you would change out the water every day.
The Best Way To Store Water
Bottom line, we should all plan on having water stored now so that it will be there for those circumstances in which you need to use it. Storing water is solely about having it when you don't have it readily available from the tap. If it was all about the prevention of death, then you'd be using your stored water water every day, right? Sure, no matter what you do, it's likely that the water you have stored will have some, if not a lot of harmful pathogens in it. But taking care of that problem is an EASY task. You just need to clean it before consuming or cooking with it.  So be sure to ALSO store tools and supplies that you'll need to make it palatable and clean. That may be charcoal, chlorine (not preferred, by the way), silver, high quality essential oils, diatomaceous earth or Redmond Clay. There are tons of great water filters that you can use.  I have several type of equipment to filter particles in the water, then to filter chemicals then to treat the water and then to purify the water. One piece of equipment that only does PART of the job is my Berkey filters that have pure silver and activated charcoal/carbon in them. (Important to note: While the Berkey filter claims to handle a whole lot of gallons of water, you will need to replace the filters LONG before you get to that maximum use point because of the bacteria, spores, mold, and viruses that most certainly WILL build up on the filter. TIME is your enemy in a Berkey style filter, not the number of gallons. So please keep that in mind when you're making your preparations. Dont' fall for that "red food coloring" trick. Food coloring is a food grade item. ANY decent filter should clean that out. That has NOTHING to do with the bacteria and other harmful things that will build up on your filters. OK? ) It's gravity fed, so no electricity is needed.  If I wasn't so stuck in my ways, I could use it everyday in my house for my drinking water. But ultimately I think that it's a bit overwhelming for a person to believe that not only do they need to fill up those 55 gallon drums and find a place to put them, but they then have to go and empty those 440 pounds of dead weight and refill them every 6 months or so—ESPECIALLY when there is so much else that needs your time, attention, and energy in the world of preparedness.   Remember I always say that the first rule of preparedness is to conserve your own physical energy. This applies today during your preparedness efforts as well as during a crisis. We don't manage time, folks. We manage energy. (Note: I have changed my opinion somewhat of the Berkey filters since writing this article.  Please see my updated post: Water Filtration Facts and Fiction--Part I of II
What NOT to use for Water Storage
Before I sign off on this one, I want to give you all a word of caution. Please, for your own sake and that of your kidneys and liver, please do not indulge your thirst with AquaFina or Dasani bottled water.  They are very acidic and they are cleaned with lye. And no, I couldn't say that about such a big company if it wasn't accurate. (So, Pepsi Co.—go ahead and have your attorneys call my attorney if you feel that I'm sharing inaccurate information. )  As a matter of fact, in my book I state that you're better off storing your water from the best source you have available—which may only be your tap, as opposed to a well, and then be sure you have plenty of stabilizing and cleansing tools to use on your water when the time comes that you need to use it.
So, ultimately, what I'm saying here is that the Preparedness Pro gives you permission to NOT change out the water in your quality hard plastic water barrels/containers. Mind you, that doesn't mean you can stop drinking water now.  Drink LOTS of it and stay hydrated, OK? As you were. *grin*
© 2019 Of COURSE this post is Copyright Protected by Preparedness Pro. All Rights Reserved. NO portion of this article may be reposted, printed, copied, disbursed, etc. without first receiving written permission by the author. This content may be printed for personal use only. (Then again, laws are only as good as the people who keep them.) Preparedness Pro will pursue all violations of these rights just as vigorously as she does any of her other freedoms, liberties, and protections.