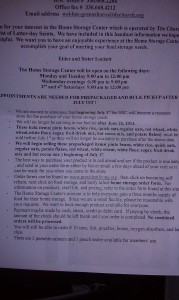 An official handout of the Greensboro, NC LDS Cannery, given to all patrons earlier this week.
Copyright 2013 All Rights Reserved Preparedness Pro
Breaking News: LDS Canneries East of the Mississippi to HALT CANNING!
Update: The conclusion which I lay out in this article regarding the changes to the canneries made to the LDS Church Canneries has actually been verified with a recent official press release with respect to the fact that the canneries will HALT canning but does NOT affirm any of my assertions regarding the politically charged conclusions that I share--other than there were some considerations given to the mass of government requirements at each of their locations. See "The Rest of the Story on the LDS Canneries" here. There are further details adding credence to this article available  in this post (including collaboration by other witnesses, including aspects of the arduous government interference or hinderance of the cannery activities) and see the official, FIRST LDS Church response that was initially just a couple of sentences long, as published  here.  in the Deseret News.
LDS Canneries "east of the Mississippi" will no longer be canning any food at their facilities beginning as early as June 27th, 2013,
as they are no longer able to justify the abhorrent costs to keep in compliance with the ever-changing criteria set forth by the U.S. Department of Agriculture and the Food and Drug Administration.  The canneries will still function as a center for pre-packaged bulk-foods for their patrons, but these items will have to be shipped into them now, pre-packaged in the LDS
Mississippi LDS Cannery PreparednessPro.com
Canneries in the West (which are more robust and closer to LDS Church headquarters which makes quality control simpler).
This news has been confirmed several dozen times over ever since I posted it on Facebook this morning. One of the commenters (who shall remain anonymous) stated the following:
"I called the cannery in Apple Valley, MN this morning and confirmed this is affecting their cannery. The sister I spoke with said it starts July 1st. From then on you can no longer buy anything in bulk, only in pre-packaged cans.
On the one hand I see it as not so bad because at least we can still buy the foods there and they will presumably be about the same prices. On the other hand it's a great loss to not be able to buy in bulk if you want and I also see this as one more baby step in the government taking control."
Yup, now that I've dropped that little startling info, let me give you the rest of the information.
What's an LDS Cannery?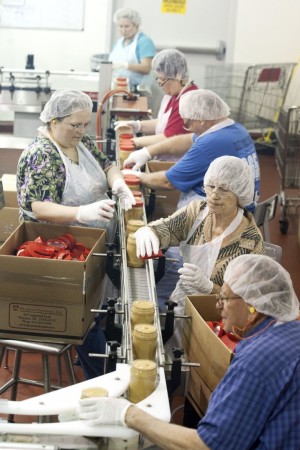 LDS Cannery Volunteers PreparednessPro.com
For those of you that don't know, the LDS Church (The Church of Jesus Christ of Latter-Day Saints) is a Christian religion that has deep roots of assisting the citizens in their regions to become more self-sufficient. For decades their members have
been admonished to live self-sufficient lives including setting aside appropriate foods to last a family 12 months. One of the ways that members are able to accomplish this is by volunteering at an LDS Cannery. This opportunity is also available to non-members of the LDS faith without restriction as well,  who schedule a time to volunteer to assist in the canning of a wide spectrum of foods as these canneries. Fruits, vegetables, protein, legumes, starches such as rice and wheat, flour and sugar, and even spaghetti sauce and chili are some of the essential items that people have been able to come and donate service to can, in 2 to 4 hour shifts. At the end of their shift the volunteers are given the opportunity to purchase various items that are canned at the facility, in #10 cans. The products at the LDS Cannery facilities (sometimes referred to as Home Storage Centers) are typically at or just above cost, so they are very competitively priced, and come with the confidence that they were getting premium, quality food.  These foods are frequently used to supplement the groceries purchased by families and also serve as reliable foods that have a long shelf-life which can be set aside for a rainy day. Well, thanks to Big Brother's ulterior agenda, come June 26th there will no longer be ANY canning activity at these facilities east of the Mississippi. Unfortunately, the government entities have made it far too costly, topped with even exposure to legal liabilities to continue providing this amazing service to their communities.
The LDS Church Would NOT Make This Decision Lightly
Keep in mind that the LDS Church Corporation is no pauper nor have they shown anything but an admirable determination to continue running these facilities over the years. They stand as a beacon of self-sufficiency in every sense of the word as they are run debt free and strictly by volunteers. There's hardly a home of an LDS Member in existence that doesn't possess at least a couple of their trademarked, understated brand of #10 cans from the cannery and there are millions of non LDS persons who have discovered the food that can be purchased from these centers as one of the best kept secrets to successful family budgeting. Millions of volunteer hours are donated to these facilities every year! They are NOT backing down because of a small speed bump. No, this decision would ONLY come as a result of some pretty significant obstacles. (When the government regulations become a moving target, it's nearly impossible to accommodate their criteria regardless of one's financial strength or commitment. Many small business owners can relate to this dilemma, I'm sure!)  And yet, in spite of this, you can bet that the LDS Church will handle this with absolute class and restraint when they make the public announcement.
Can't Find News on the LDS Canneries Yet?
The LDS Church has not yet made an official announcement on this matter, however, the various canneries have begun letting their patrons know with the types of handouts that you see at the left and many LDS churchgoers can expect announcements to be made from the pulpit regarding these changes in the upcoming Sundays. However, I am certain that the ONLY place you'll hear about the FDA and USDA's involvement will be here, as a result of the one on one interviews that
Volunteers Cleaning LDS Cannery FDA USDA PreparednessPro.com
I've had with people who are involved in the logistics of making these changes. And since the LDS Church is not known for returning evil for evil, or whining or griping about how unjustly they've been treated in such matters, I'm certain that you'll not hear any media coverage addressing the role that the U.S. government has played in these matters. It's only on condition of absolute anonymity that I have such information and back story that's been shared with me.  One comment that has stuck with me strongly was the person who shared with me about a stiff fine that their previous perfect record cannery had been assessed. (Remember, these volunteers never would have anticipated to have to deal with such bureaucracy when they originally volunteered to serve an 18 month service mission). This person said "it seems like they (USDA) only show up now because they see an LDS Cannery inspection as a quick way to make a buck." This informant went on to clarify that they pay close attention to every detail of cleanliness and compliance, sometimes "even to the point that the volunteer patrons may think I'm being a bit strict, but I don't want anything to compromise this invaluable service that we do here, but they always seem to find something to be unhappy about (during their inspections)."
What Does This Mean for LDS Canneries?
What's a cannery that doesn't can anything? Well, apparently it's just a center now in which people will be able to check out the canning equipment (for #10 can projects) for a few days at a time, and can dry goods in their own home, or they'll be able to purchase pre-packaged goods that will be canned in the more robust facilities in the Western States which will no doubt bear the burden of the cost to be shipped now to the Eastern states. This means that the LDS Canneries in the West, which are already working as a fast clip will need to increase the number of volunteer hours in order to make up for the products that will be shipped to the east.  Unfortunately, it became obvious to me that this kind of mess doesn't stop here. Several of the personal interviewees made it clear to me that they feel like there's an active intent by these government entities to shut down ALL LDS Canneries ALL over the U.S. including a target on the ability to purchase foods in bulk, and that there seemed to be a targeted time table by the government entities to have this accomplished at the end of the next two years. We'll just have to see who wins that little challenge. One thing I can say about the LDS Church, they ALWAYS rise to the challenge. Fortunately that can't be said about any of the U.S Government entities as a whole.
On a personal note, I'm greatly disturbed by this recent change of events, not only because I have personally volunteered at several of the affected facilities all my life it seems, but I personally know literally hundreds (if not thousands) of our readers who will also be impacted by this change. I've been able to also confirm this week that this policy has been put in place at a handful of other LDS Canneries in other areas of the country including Missouri, Washington, Texas, and other states.
Is There More to This LDS Cannery Story?
Remember the hoopla that happened last year in which the FBI was reported to have popped in at an LDS Cannery demanding to see a list of all of their patrons? (I believe the word "raid" was used.) Well, I conducted personal interviews on that matter as well in an effort to try to get to the truth of the matter, and after doing so I was certain that there was such an incident, but that it was easily handled in such as way so as not to ruffle any government or LDS member's feathers. The story was quickly put to rest publicly which was EASY to do because there were so few persons involved to manage. (The LDS Church always favors the least offensive approach to these kinds of things) But when there's a change like THIS that's undeniable, and will soon be obvious to SO many patrons of so many locations—well that's a little more difficult to soft shoe and conceal. However, I'm certain that the official announcements from the LDS Church will not including any grousing about a bothersome Big Brother interference when they do.
How Does This Affect Our Preparedness Efforts?
Millions of persons have benefited from the canning services offered at the LDS Canneries all over the U.S., and as I mentioned earlier, the LDS Church does not require that a person be a member of their church to participate in the bulk purchasing, but this shut down will inevitably make things more challenging for those who are trying to acquire quality food essentials at affordable prices. Unfortunately, the LDS Church (corporation) has enabled the wolf at the door to have the full run of the house in matters such as these.  Personal interviews unveiled numerous accounts of supervisors of the canneries feeling badgered and even harassed by the USDA and the FDA. At one point the LDS Church was told several years ago that they had to stop canning their homegrown peaches because they were told by the government entity inspecting them that "they were too juicy." Yup—"too juicy". How about that for a lame excuse? As a result, the LDS Church began drying some of their produce so that they could still provide such yummy, nutritional produce. (Their dried apples are divine.)
Are LDS Church Orchards Now Being Targeted Too?
Adding more fodder to this mess is the recent uptick in the government agencies harassing the LDS Church owned orchards in various parts of the U.S. Here's one letter I received by one of the members of the LDS Church who showed up to volunteer on a church run orchard in Idaho.  (As always—name withheld)
"We are blessed to live close to the LDS church orchards and get the opportunity to work there every year to prune, thin, and harvest peaches, pears, plums, cherries, apricots, apples, etc. It is such a blessing to people who live here and for the members of the church who provide labor which ultimately feeds thousands of people worldwide.
However, the feds have upped their regulations this year and are requiring every volunteer to be (specially government) trained. They have made it clear that we could be audited, and the volunteers could be asked by Gov't officials on-site (at any time) if they have been 'trained'. If we are not in compliance, the orchard could be shut down. So after Sacrament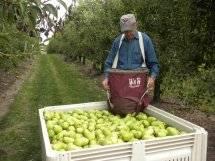 LDS Orchard Cannery PreparednessPro.com
meeting today they had a Stake member come and pass out a 'training' sheet and gave adults a card that people are supposed to sign and take with them out to the orchard when we work to show that we have been trained. The wards now have to have an orchard coordinator that will be on site to 'train' those people who fall through the cracks and missed the training. (Editor note: Remember—these are ALL volunteers who make this all possible.)
The training includes on-site cleanliness (washing hands, etc. and using the toilet facilities that the church has always provided (us) before 'they' said anything); another item was that if fruit touches the ground we are to not put it in the bins; we can't use it for use at the cannery. However, that fruit is good enough for me to pick up and take home to eat, hmmmm. Moving on....
Another item--That children are watched carefully so they don't pick fruit with unclean hands, (seems to me that the canning process would kill any bacteria that a child or adult might have on their hands); that each volunteer record their hours, and that we provide proof of training to any official who may want to see it on demand.
Now this is just another effort to make us more dependent on 'Them'. I was livid during this meeting as I realized what was happening and what 'They' are trying to accomplish. This is a sign of it trickling down to the people of our country and many don't see the tentacles reaching out to grab and control them. Too many people are complacent and don't realize what this means for the future of our food production.
The cannery in Boise has had to quit canning meats because 'They' passed more regulations that the Church wasn't willing to abide by. So rather than jump through more hoops the church decided they would no longer can meats. I guess it is good that I already can meat and also teach others to do so. I wonder what other 'regulations' they will pass to try and shut the cannery down.
I live in Idaho, and the stakes from (redacted) westward do orchard work and the Stakes in (redacted) do cannery work. We have loved doing work in the orchards and have enjoyed having our children help. But I guess we have to be extra vigilant and be in compliance, so we will be making sure our children don't contaminate the whole orchard by picking up a piece of fruit off the ground and eating it on site. This is an item that 'they' insist on compliance. Absolutely NO picking of fruit and eating it while in the orchard. HA! How have we survived this long without Government regulations??"
(italics and emphasis added)
When you consider this bit of news with the incident that was reported last year in which an LDS Cannery received a surprise visit from the FBI who reportedly demanded to see a list of their patrons  —things start coming into focus. I also can't help but think of the increase numbers of regular, everyday home gardeners that are being harassed by the police just because they had the audacity to GROW FOOD!   No, I'm not talking about some crazy story in some other country; I'm talking about what's going on right here in the U.S.A.
I'd say that we've all had ample indications that it's time to wake up and get prepared. You've already lost one more valuable outlet with this latest maneuver. You're likely to find that your bank account has been emptied overnight by the powers that be like it was for many in Cyprus and Canada recently. You're likely to find that it's impossible to purchase non-gmo seeds any longer to grow, or that your water supply will be drastically reduced. Who knows what will happen exactly, but no one can sit there and feign ignorance or plead that they never had any warning?  This, my friends, is a very clear warning to us all--anything can happen--things we've never even conceived of that will alter our future plans to prepare--in a heartbeat. Seems to me we need to stop making those plans about what we intend to do in the future and start making it a priority to get better prepared today, while we still can.
(Author's notes: When I first launched this story on our Facebook page earlier today it was met primarily by persons who know my reputation to check and verify my facts, and as such, as viable information. However, there are those persons who see their mission in life to be one of torment, scoffing and scorning the earnest efforts of others. If you choose to comment to this story and be one of THOSE kinds of people, know that you will not have your 15 minutes of fame, as all such comments will be banned from our site.)
Copyright Protected 2013 Preparedness Pro All Rights Reserved
To print out this article for PERSONAL use only, simply select "ctrl  P" which will enable you to print the entire page. If you select "print preview" when you opt to print, then you will be able to determine WHICH pages you want to print so that you're not unnecessarily printing pages that are of no value to you. We've disabled the traditional highlighting and paste option on this page due to the rampant theft of our content by other bloggers, who then post the content as their own.
© 2019 Of COURSE this post is Copyright Protected by Preparedness Pro. All Rights Reserved. NO portion of this article may be reposted, printed, copied, disbursed, etc. without first receiving written permission by the author. This content may be printed for personal use only. (Then again, laws are only as good as the people who keep them.) Preparedness Pro will pursue all violations of these rights just as vigorously as she does any of her other freedoms, liberties, and protections.