Ah…prepping for babies.
I just LOVE babies. I don't care if they're crying or fussing or beautifully sound asleep, I just love them. They are so snuggly and precious—those smiles that melt your heart like nothing else can. Those cute little feet that you swear you could just gobble up. Somehow their curiosity helps us see the world through a new set of eyes. Their inherent innocence and vulnerability that we see in their eyes is sure to make even the most stoic parent feel humbled, and not just a little bit unprepared in fulfilling the humble task of raising them to be wonderful adults someday. *contented sigh* How daunting is their childlike faith that they so generously grant us—faith that we'll provide for every possible need that they'll ever have. That angelic look on their peaceful faces when they've fallen asleep in your arms melts the heart of every caregiver.
Yup, babies are so wonderful on so many levels, but our inadequacies are heightened when we consider all that is necessary in order to prepare to protect them and provide for them in the midst of a crisis.  If you think about it, the whole process prior to the arrival of a new little one is all about "preparing", though some refer to it as nesting. Oh, and the diaper bags… they are practically magical as Mom and Dad try to preemptively ensure every need that they—and WE—will have. We try to think of anything and everything that will make the screaming stop, the crying soothed, the fussiness distracted. And let's not forget the never-ending journey we set upon to find the perfect, promising tool that will be up to the match of the somewhat nuclear disasters that we get to deal with every 90 minutes—or less.
A preppers nightmare--how do I get enough diapers??
The almighty diaper. You know of course that the meaning behind the famous song "The Impossible Dream" was based on the never-ending journey of a diaper that was waterproof, yucky proof, leak proof, and ick proof, right? *grin* If you want to get more out of the next installment of "The Hobbit", understand that what they are really after is a baby diaper that can eliminate "blow outs" without threatening to break every household budget. Yep. There are no greater horrors to a parent than running out of diapers!
"What? You're threatening me with waterboarding if I don't talk? Oh come now Mr. Evil One, I've run out of diapers in the middle of Sunday School after feeding my child prunes, while wearing my new Easter dress! How one little 8 pound bundle of joy can deliver such a horrible, stinky mess that makes a 9.9 earthquake look like a hiccup, I'll never know!"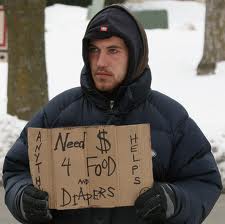 Teton Dam break in 1956 to Hurricane Sandy 2013—amidst the aftermath of all similar disasters which affect families, the NUMBER ONE requested item has always been DIAPERS!! But they certainly aren't cheap; and a year's supply of diapers for ONE child is approximately $720.  They're bulky too. I don't have to be a statistician to know that a year's worth of diapers takes up a LOT of space. Even though I haven't been blessed with children of my own, I still purchase diapers when I get a great deal on them with my couponing. I'm frustrated with the fact that I've had to dedicate an entire shelf in my large metal shelving units and yet I only have about 30 packs in varying sizes. That brings me to the other challenge in one's efforts of trying to be prepared with enough diapers. How in the world can one estimate what diaper size their children will need when we have to live through a society down scenario?!
I realize that there are some inherent downsides to cloth diapers, but let's face it, there's really no other solution in a long-term crisis scenario.  So in spite of the bum rap (hee hee) of the increase in laundry loads that one does and the initial costs of the cloth diapers, cloth diapers are the only reliable option in a true self-sufficient lifestyle. That being said though, there are many characteristics that I don't remember fondly when it comes to cloth diapers.  I remember them as leaking, messy, unattractive, options that only "poor folks" had to use. I'll never forget the horrid experience I had once in taking care of my little brothers "explosion" in a cloth diaper with a plastic pants on the outside. But when faced with stocking up on disposable diapers, it doesn't seem like there's really any other option.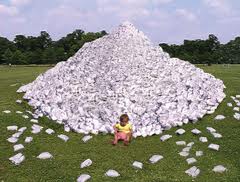 As I began researching the use of cloth diapers in today's world, I found out a lot of things about disposable diapers that motivated me all the more into the "disposable diaper camp." For example, I've found myself more aware of the environment impacts that all of the disposable diapers have on our drinking water supplies (thanks to the dioxins) and I'm none too happy about exposing a baby to the other harmful content of a diaper—especially since the reproductive system is so vulnerable to absorbing those harmful contents such as VOCs (Volatile Organic Compounds), SAP (Sodium Polyacralate), chlorine, and now GMO corn and soy products. Ugh! And there's nothing "feel good" in knowing that disposable diapers require hundreds of years to properly break down in our dumps, either. It's also not lost on me that the cost of diapers has far outpaced the average raise increases lately.  (sometimes I swear that "they" see that so many people would never dream of doing without their disposable diapers and so they just keep increasing the price as far as they can—just to the point where it makes one wince. It's not like we're seeing ANY efforts in the disposable diaper industry to find a way to create them more affordable, let alone safe for the babies. I was quite shocked to learn of all of the rashes and other ails that those cute little ones have to endure thanks to the toxicity of disposable diapers. So, cloth diapers it is…but can I get past the "dislikes" that I remember from my childhood?
Cloth Diapers for Preppers!
Thank goodness though, cloth diapers come a LONG way nowadays—and so has the culture of acceptance. If a gal wants to do disposable diapers, then she can pay for a diaper cleaning service that's less than HALF the cost of what they'd have to spend on disposable diapers—and that doesn't take into consideration the electricity, water and detergent that one would have to spend to clean them at home.  And better yet, after researching 12 prominent brands in the industry, including Bum Genius and Thirsties, I believe I stumbled upon a brand and design, etc. that I can direct you towards. Better yet, the wonderful owner of the company generously provided me with samples to play with and a couple of them to give away to two of our lucky readers too. *grin*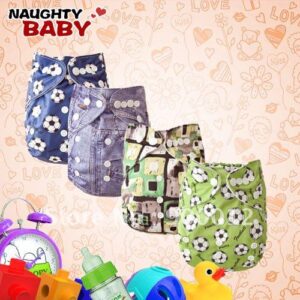 The brand? Naughty Baby found over at  MyNaughtyBaby.com. At only $7.95 each and beautifully designed for boys and girls with plenty of cute looks that make you want to "awwww" and have a baby if for no other purpose than to see them in one of these cute cloth diapers. But if you order ten of their diapers at a time, you get free shipping and if you order their 3 packs you're price per diaper comes down to $7.30 each and if you order in their 10 packs the price comes down to only $6.88 each. They definitely pass the preliminary aesthetic test. I also LOVE the fabric that they use on the outside which is part polyester and "minky" fabric. I just love how snuggly it feels. The inside of the diaper is a special PUL fabric which makes them waterproof, which, when coupled with the elastic legs, help to make them leak proof! But more importantly, they passed a critical functionality test. They are adjustable both horizontally and vertically making them fabulous for a 6 pound baby up to 31 pound child that you're trying to potty train. Each diaper also comes with a triple microfiber insert for more absorbent power. I went to Target to check out their version of this. They sell the diaper itself for $19 and $7 for the inserts! Ack! $26 for what you can get at MyNaughtyBaby.com for only $7.95. And while I'm fashion-challenged at times, I still think that I can tell what is and isn't stylish and Target had nothing on the cute designs that Naugthy Baby has.
Another cool improvement for cloth diapers are the special biodegradable inserts that Naughty Baby also offers. They go INSIDE the diaper, right against the baby's skin, that makes big mess clean ups much more bearable as you simply throw the nappy in the toilet and flush. They aren't harmful to the environment or your septic system thanks to their biodegradable features. As you can see, I'm thoroughly impressed. In fact the only thing I didn't like about the Naughty Baby company is that their website is woefully inadequate--Yawn and missing a great deal of information that could only be had if you actually interviewed the owner of the company. Tsk Tsk. I'm sure I can make some copywriting suggestions for them.
As it turns out, your efforts to solve a preparedness problem (as well as a financial problem and a healthier baby issue) are being solved by a man who's also passionate about preparedness. Mark Elliot is the head hauncho over at My Naughty Baby and while you can purchase Naughty Baby designs in several places, Mark is a prepper and I like to do whatever I can do to help support entrepreneurial preppers. After all, the money that I help them earn may help someone I love someday, right? Anyway, Mark has generously provided me with two adorable girl designs and two adorable boy designs which I'm going to send to two lucky Preparedness Pro readers.  I'll do a random selection for the two winners from the pool of commenters on this article on on July 19th, 2013, and announce the winner right afterwards. So if you'd like to win one of these sets then go ahead and post your comment below.  You can ONLY post ONE comment per computer and household though.
Bottom line—hee hee—yup, pun intended—I look at this cloth diaper solution this way…I can spend $75 on cloth diapers this month and then NOT have to spend the $60-$75 on disposable diapers next month. I'll be putting myself in a better position of self-sufficiency, including a better financial position, and I'll be providing a much more healthy option for the wee ones, and doing my part to take care of the world around me including the drinking water and the land—all while making that little bundle of joy stylish and snuggly. What more could I ask for? Now all you need is to be able to create your own wet wipes. Don't worry. We gotcha covered on that one too—coming soon. *wink* dilemma
© 2019 Of COURSE this post is Copyright Protected by Preparedness Pro. All Rights Reserved. NO portion of this article may be reposted, printed, copied, disbursed, etc. without first receiving written permission by the author. This content may be printed for personal use only. (Then again, laws are only as good as the people who keep them.) Preparedness Pro will pursue all violations of these rights just as vigorously as she does any of her other freedoms, liberties, and protections.