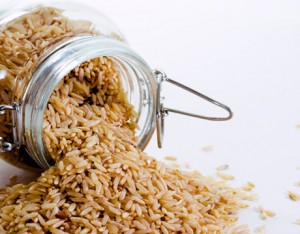 So to start off let me ask you a question. Do you have your rice?
I don't know about you, but rice is one of my "must have" staples in my home. It is a part of the 350 pounds of grains I have per person for a year's supply.  I especially love the heartiness which my brown rice affords me. But there are some rough roads ahead in this regard due to the flooding which is going on in our heartland area.
I suspect that many of you assume that our rice was imported from Asian countries. But actually 50% of our nation's rice production comes from Arkansas—home to a lot of Mother Nature hits lately. Earthquake, flooding, extreme temperatures, etc.—our rice supply from AR can now be completely written off.  Louisiana grows about 14% of the nation's rice presently and California grows about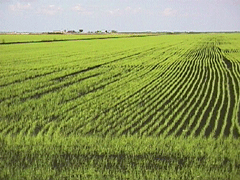 20%. The rest comes from other states such as Mississippi as well as imports. As a result of the harsh weather conditions that our heartland has endured over the last several years, the pinch on the availability of rice is about to be felt by everyone. I'm not just talking about the increase in the price, I'm talking about the fact that we can expect to see a decreasing supply.  As such, I've been focusing on getting my years supply over the last year, but more intensely over the last couple of months.
While purchasing and stocking up on rice and other grains is a good idea under the present circumstances, in the name of self-reliance I've decided to take things a step further.  I've decided that I want to be able to grow it as well, if necessary.
Growing rice does require a great deal of water, so I may very well not be able to actually grow it under dire circumstances. Under normal circumstances it might not be realistic to grow a sufficient amount in my back yard here at my home. But for me, the whole purpose of preparedness is to anticipate potential problems and try to come up with a solution—at least the best solution we can with our present circumstances and knowledge. So, I decided to go for it. The truth is, rice is actually very forgiving. It's certainly not a temperamental or delicate plant.  It's not picky about the kind of soil it grows in and it thrives in warmer temperatures, but I also witnessed bountiful rice fields in the mountains of the Philippines where it's regularly cool weather. It's relatively foolproof to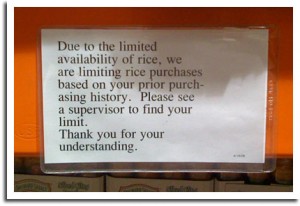 grow which is why it's grown and used so abundantly in third world nations. Having helped in those rice fields, I can tell you that the soil used in these nations receives very little nutrients or coddling; and yet the rice continues to grow. So in addition to stocking up on rice now—in order to stabilize your food budget and protect it from the soon-to-come skyrocketing prices—I would also have a "just in case bucket" with the appropriate supplies and informational resources for growing your own.
After making this decision, I decided to do a little more research on the ability to grown other grains such as quinoa, amaranth, wheat, and oats, barley, and rye. I have been particularly intrigued with sorghum grain (also seen as grain sorghum) which is a grain that's actually easier to thresh than some of the other grains and makes absolutely heavenly fluffy breads and pastries.  I was pleased to see that there are many homesteaders all over the U.S. who are successfully growing their own grains.
Another bonus is that thanks to today's technical advances, grinding your own grains is relatively easy, regardless of what kind of grain you're grinding. Rice flour, wheat flour, sorghum flour—it's all the same in my book. If you don't want to hassle with the grinding, you can always enjoy the grains whole in cereals, as an addition to bread dough or a topping for breads and rolls, or—as I've newly become a fan of—as a "popped grain" much like popped corn. (I've been munching on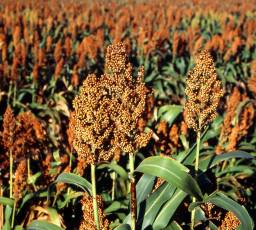 popped wheat for nearly two weeks now and love it.) You can season these "popped grains with regular or seasoned salt for a savory snack or you can use cinnamon and sugar for a sweet treat. Of course I can't forget to mention sprouting the grains as you can do with any whole grain, and thus compound the nutritional value several times over.  Though I haven't grown any wheat or oats just yet, I have been encouraged to discover that the majority of the grains are also very forgiving to the mistakes that non-expert gardeners might make.  Other than keeping the bugs and blight away, there's not much that one has to do to successfully grow them. Don't ya just love it?!
Mind you, most gardening spaces won't grow enough grain for an entire family of 4 for a whole year, but I look at it from another angle. If I can grow my own grains and preserve them properly, then I can gradually add these grains to my supplies with the peace of mind in knowing that they are the freshest I could possibly buy on the market and that they are free from many of the toxins and chemicals that are so abundant in the marketplace today. Let's not forget that pioneers avoided starvation in the midst of brutal winter in the mountains by living solely off of corn. Mind you, appetite fatigue is bound to set in under those circumstances, but it's better than the alternative, right?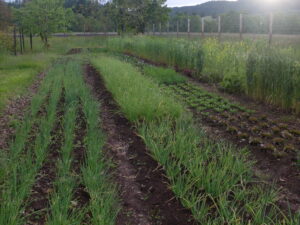 Even better, when I grow my own grains, I'll know that I'm consuming GMO-free food and that all of the wonderful nutrition is fully intact! There are also a great number of by-products that can be enjoyed when growing your own grains such as hay; which can be used to feed animals or to insulate; or the by-products can be used in weaving to make either rope or much needed containers.  Cane sorghum actually makes a delightful syrup! There are many more uses of the by-products which I could mention, but I think you get the picture. When I think of all of the possibilities in taking this step of self-reliance, I'm almost giddy at the realization that I have more control over my well-being than I realize.  It is actually this rationale which causes me to continue to believe that there really is peace in preparedness.  Now, stop reading this and go get your rice and other grains before you end up paying 4 times as much for them.
© 2019 Of COURSE this post is Copyright Protected by Preparedness Pro. All Rights Reserved. NO portion of this article may be reposted, printed, copied, disbursed, etc. without first receiving written permission by the author. This content may be printed for personal use only. (Then again, laws are only as good as the people who keep them.) Preparedness Pro will pursue all violations of these rights just as vigorously as she does any of her other freedoms, liberties, and protections.
Related Content: