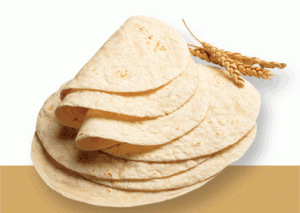 Creating a menu based on what you have and then only purchasing what is dramatically on sale is the mental shift I learned to accept over a decade ago.  But I believe that it's a necessary way for me to live as it required me to be diligent and focused on what I do have, rather than what I may want.  That fits right in with my criteria of being more self-reliant.  Sure there are times when nothing will do
except for the perfect hot fudge sundae at Baskin-Robbins, but that's the rare exception—not the rule.  There is a downside to this discipline though.  Sometimes, if you give me the perfect sale, "FREE," I may have a tendency to overdo a bit, feeling confident in the heat of the moment that I can make plenty of wonderful things with my new-found stash. Um…I think I was wrong this time.  The flour tortilla shells were definitely making me work for my "free food."
I'm not sure how or when this happened. It's all a fog to me. I went to the grocery store, fully conscious, but don't recall putting 20+ bags of tortillas in my shopping cart. And now they are everywhere, tumbling out of the refrigerator each time I open it.  I could have sworn that one of them let out a maniacal laugh. Help! What in the world can I do with all of these tortillas?  I don't want to throw them out, they were FREE after all, thanks to the coupons combined with an awesome sale; but somehow they've taken over my otherwise organized refrigerator.  I swear they are attempting to drape themselves over all of the other food ingredients which I have in an attempt to jockey for first ones out to my dinner table. "Come on, Kellene. You can do it. These are just flimsy pieces of dough. You can outsmart them. After all, you are The Preparedness Pro."
Is it even possible to create enough dishes with flour tortilla shells before my husband calls "Uncle" and begs for relief?  If I'm not successful, he might even attempt to cook something other than macaroni and cheese, and I don't think I could bear that any better than dealing with the tortillas. One thing I know for sure, no more tortilla coupons! It's a conspiracy, I'm tellin' ya!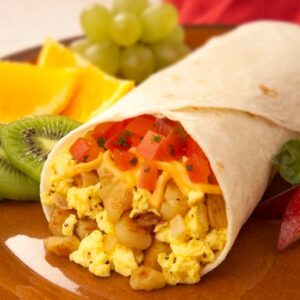 So, what's a girl to do with too many tortilla shells? Get creative, really creative.
1) Breakfast burritos with cheese, sausage, hash browns and scrambled eggs.
2) Chicken Divine Enchiladas with a creamy white sauce of sour cream and cream cheese and chicken.
3) Cut into small triangles, bake, and use as a chips for nachos.
4) Same as #3, but dip them in a sweet garlicky hummus
5) Beef burritos with all of the fixings. (one of Prince Charming's Favorites)
6) Spread cheese on top of one, top it with another tortilla, and then top with favorite pizza toppings.
7) Pork Asada tacos (one of my favorite recipes using the Shirley J. Pork Seasoning, cabbage and lime—YUM!)
8) Cherry Empanada's—just fill with cherry pie filling, deep fry, and then sprinkle with cinnamon and sugar. Dangerous yes, but also very delicious. This can be used with a myriad of different stuffings such as cream, apple pie filling, and Nutella.
9) Sloppy Joe Tortillas—not as heavenly as when they are served on freshly baked rolls, but good nonetheless.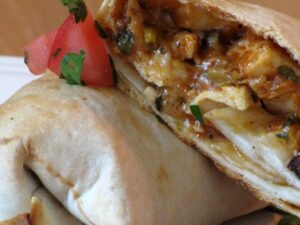 10) Chicken and pork chimichangas—just rolled up with meat, cheese, and black beans, deep fried for about 3 minutes. I can't believe that even somewhat stale tortillas can still taste better than any restaurant food when made right in my own home.
11) Low fat turkey appetizers—spread low fat cream cheese, diced green chilis, a teaspoon of your favorite salsa, finely diced black olives, a little salt and pepper, and your favorite low fat lunch meat; roll up tightly and then cut into bite sized wedges. Great for game day munchies!
12) Cut into fine strips, season, then bake and then top your favorite tortilla soup recipe.
13) Banana Tortilla: Slather with your favorite peanut butter, add a drizzle of raw honey and then roll up a banana. This was a happy mess! I don't know that I want regular P B & J any longer.
14) Elephant Ears: cut into fourths, then just fry for a couple of minutes. Sprinkle sugar and cinnamon and enjoy nice and warm!
15) Poor Man's Beef Wellington: Place a round piece of beef in the center, top with your favorite mushroom sauce, or use Campbells French Onion Soup, gather up the edges and then place edges down on a baking sheet, then bake for about 25 minutes at 350 degrees. Top with more of the sauce and pull out your favorite steak knife.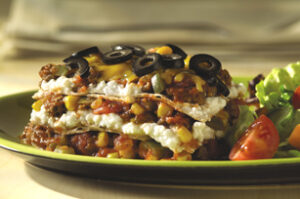 16) Pickle Rolls (Grandma always made these for us) Just spread cream cheese on the tortilla, followed by sliced ham, then add a long dill pickle spear and roll it up. Cut into bite sized, snack pieces.
17) Mexican Lasagna: Instead of using lasagna noodles use the tortilla shells. Make your sauce like you regularly do lasagna except add a pinch of taco seasoning. Assemble like you regularly do a lasagna dish and bake. When done baking top with fresh, diced tomatoes, black olives, shredded lettuce along with some decorative dollops of sour cream. Delish!
18) Seven Layer Mexi-Pizza: Spread the following items, each on its own tortilla—cheese, sour cream, refried beans, cooked and seasoned hamburger, Spanish flavored rice, salsa, and cheese again on a single tortilla, stacking each new layer of flavor on top of the first. Top with cheese and bake at 350 for 15 minutes.
19) Chicken Pot pie: Use two tortillas to line the bottom and the top of your chicken pot pie filling.(I cut them to fit)  Top with butter and a sprinkle of salt and pepper. Bake at 350 for 35-40 minutes until ingredients are bubbly.
20) Peach Cobbler: Follow any traditional peach cobbler recipe, except instead of making a dumpling dough, top with strips of tortillas. (I like to do them in a criss cross fashion) Sprinkle with cinnamon and sugar and place 6 pats of butter. Bake as you normally would and indulge.
This was quite the journey, to be honest. I felt truly challenged. However, I will say that it makes me much more comfortable in knowing that I don't have to make traditional dumpling, crusts, or bread, and instead can whip up some fresh tortillas with a handy-dandy tortilla press and a cast iron skillet. Tortillas require very little physical exertion, heat,  cooking time, etc. compared to making bread; and use very few foolproof ingredients. Just flour, salt, and lard--so I think they are a great food asset if we familiarize ourselves with their use.  Some of these dishes that I stumbled upon I'm planning on making all over again--on purpose!
I'd love to hear what your creative minds conjure up for this ingredient as well.
© 2019 Of COURSE this post is Copyright Protected by Preparedness Pro. All Rights Reserved. NO portion of this article may be reposted, printed, copied, disbursed, etc. without first receiving written permission by the author. This content may be printed for personal use only. (Then again, laws are only as good as the people who keep them.) Preparedness Pro will pursue all violations of these rights just as vigorously as she does any of her other freedoms, liberties, and protections.