By Kellene Bishop
I lived in Maine for several years. My mother and I both loved lighthouses with Mom taking her fondness for them to great lengths, collecting just about anything and everything that represented her love of lighthouses.   (In fact, my husband chose to spend our wedding night up in northern Ohio at Lakeside and enjoyed just sitting and watching the beautiful sunsets by the lighthouse that's up there.)
When Mom passed away I inherited her boxes and boxes of lighthouse knick-knacks, furniture, and collectibles; thanks to my fondness of them, I had a perfect room in my house in which to display them as I had decorated my entire front room of the  house in a New England nautical motif–complete with a wall hand-painted to represent the calming motion and colors of the ocean and a thick wallpaper boarder just above the chair rail trimming featuring Thomas Kincaid's famous lighthouse paintings. The room is also touched off with a shipboards book cabinet and blue and white furniture with white clapboard trimming resembling the sides of the ship. Finishing the look is an old weathered lobster trap that Mom had made into a coffee table that we kids abused over the years as we played games on it and ate on it as we watched TV when Mom wasn't home. One of the walls in the room is finished off with the wedding gift my husband gave to me, a large reproduction of a painting,  the Portland Headlight from Portland, Maine. The carpeting in the room is a perfect sea foam color. Perhaps all of this description can give you an idea why I like to go to this room when I need to clear my mind a little bit, or de-stress, or meet with invited guests. We read our scriptures daily in this room and oft times use it for a private moment of prayer.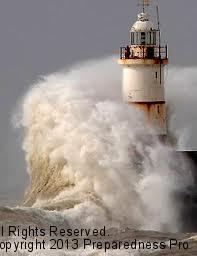 Why? Well, lighthouses have a very special meaning to me as I've never seen a picture of a lighthouse that wasn't surrounded by crashing waves; it's purpose is not fully realized until it shines amidst the dark of night, or perhaps amidst a ferocious storm. And yet it continually  stands strong amidst the dark, thrashing night, completely unyielding to the harsh elements. Notice also how lighthouses never stand in clusters or in rows along the seashore. They are always standing strong yet alone in their efforts to convey a safe path in the most difficult parts of the shore. Even the way a lighthouse is designed, small, simple and unaccommodating of crowds of people. Lighthouses were never meant to be a place of popularity and nonsense. It's very narrow in its purpose, almost as if to ensure that it will never be distracted or confused as to what its purpose is.
I hope that those of you who feel like you're on the path of preparedness all by yourself can always see a lighthouse when you need it and can prepare in such a way that you yourself can always stand as a lighthouse for others.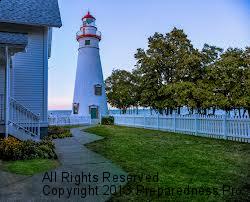 Join us on Facebook - Follow us on Twitter - In-Home-Educational Programs - Subscribe to Preparedness Pro
For any questions or comments on this article, please leave a comment on the blog site so that everyone can benefit!
©
2013 
Of COURSE this post is Copyright Protected by Preparedness Pro/Kellene Bishop.  All Rights Reserved. NO portion of this article may be reposted, printed, copied, disbursed, etc. without first receiving written permission by the author. (Then again, laws are only as good as the people who keep them.) Preparedness Pro/Kellene Bishop will pursue all violations of these rights just as vigorously as she does any of her other freedoms, liberties, and protections.